How do you imagine the everyday life on Miami Beach? One thing is certain: Miami Beach has more to offer than sun, palm trees and the sea. In my article, I would like to tell you about the Miami, how I know it and have learned to love.
A SHORT EXCURSION TO THE PAST
The name Miami comes from the Mayaimi. An native tribe that lived in this region between the 1600s and 1700s. Incidentally, Miami is the only major city in the United States that was founded by a woman (Julia Tuttle) in 1896. The smart "Mother of Miami" persuaded a railway mogul to expand its rail network to Miami. Today, there are about 460,000 people living in Miami.
The land on which Miami Beach was founded in 1915 was just a large sandbar. In order to create habitable land, that sandbank had to be heaped up with enormous amounts of sand. Today, more than 90,000 residents enjoy life on Miami Beach. Amazing how fast this unique city has grown in just a little over 100 years.
MIAMI BEACH – OUR BUBBLE
I did not have the slightest idea about this rapid development, when we moved to the "Magic City". I gained my only US experience in a two week California trip in 2015. Shocking, I know. At least my husband happened to be in Miami a few months before we moved. However, he did not like it too much back then … he was more fond of California. Why are we still here in Miami, you may ask? Well, on the one hand, the job offer of my significant other was just too good to refuse, and on the other hand, we urgently needed a change of scenery and a bit of adventure.
Meanwhile, we live on "our island", which we affectionately call "Bubble", for over two years now. You know, on Miami Beach, everything is a little different than on the mainland. Well, Miami is not the typical America you know from the movies or news… and while we're at it, Florida is generally a bit… special.
WHAT DO I MEAN BY THAT?
It's not an easy question to answer. That's why I've been sitting here for days, trying to convey my impressions, feelings, perceptions and experiences. Normally I do not have a hard time doing so, but Miami is a challenge, for some reason. Luckily I like a good challenge. You always learn so much from it.
SAFETY
I think it's best to start with Miami Beach. After all, we live here and spend most of our time in our Bubble. We call the handmade island "Bubble", because everything runs more relaxed over here and it is safer, than on the mainland. Regarding security, I can say that I feel really comfortable on Miami Beach. Nothing bad has happened to me and I have not been robbed yet. As a big city kid, I also know that you always have to pay attention to your belongings. In particular, bicycles are often stolen on the beach. My husband already had to buy a new one. That either sleeps in the car or hangs on our living room wall. Believe it or not, a friend of ours bought his 9th bicycle, because all his previous ones were stolen. That is why I always lock my cheap $ 80 boneshaker, no matter how short I have to park it. Opportunity makes thieves. Tourists often tend to be distracted and are easy prey. A restaurant staff had once asked us if we had our luggage in the car. She had probably assumed we were tourists. She told us that vacationers are being tracked by thieves when they leave their hotel et. And at a stopover, such as in a restaurant, they break into the cars and steal the luggage. So, watch out.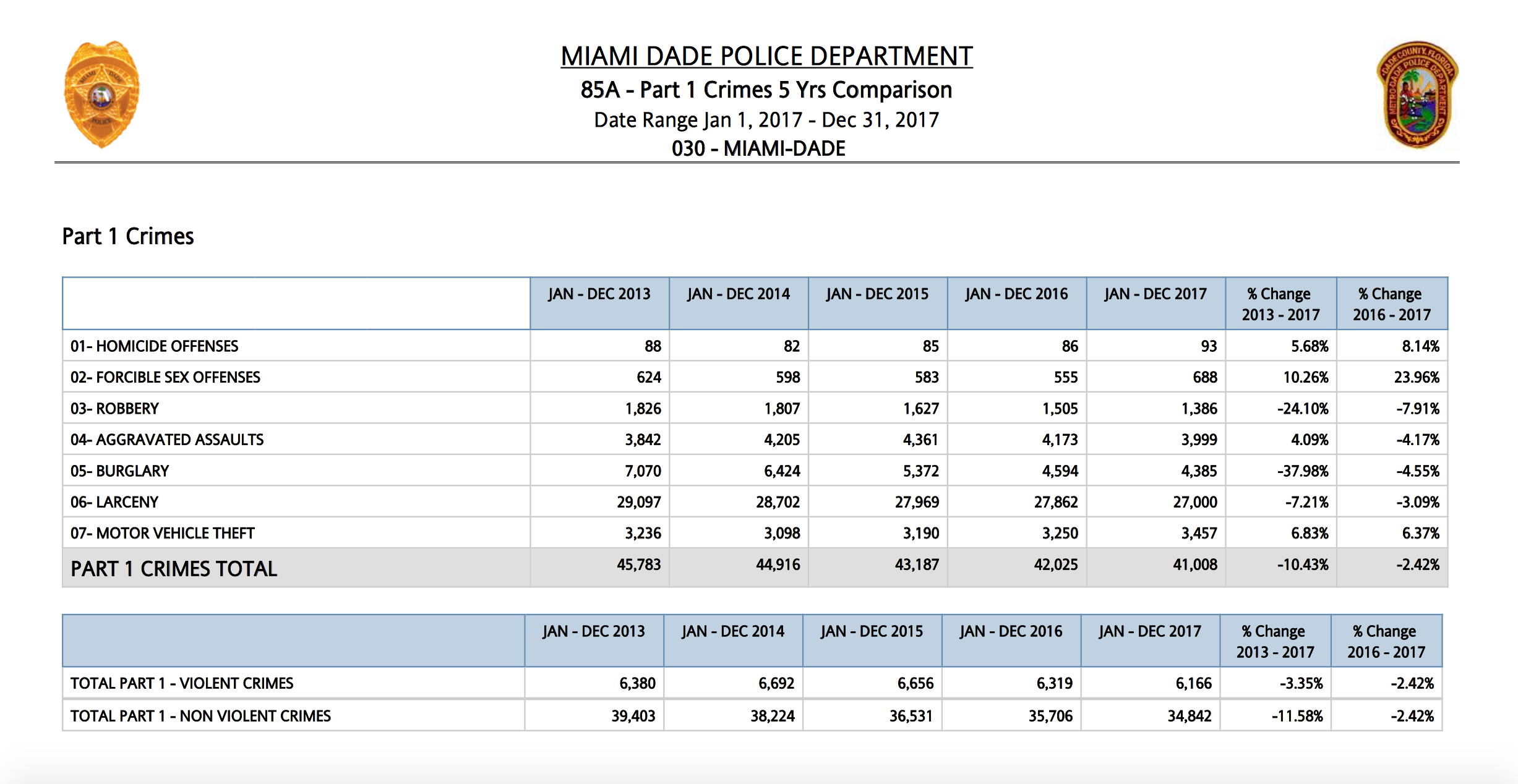 The more uncertain areas are on the mainland: Overtown, Liberty City, Little Haiti and Allapattah. Here, the crime rate is higher due to poverty and gang warfare. In the news you hear about raids, shootings, etc. Of course there are many beautiful and safe areas on the mainland, in which you don't need to worry. Wynwood, Downtown, Coconut Grove and Coral Gables are my personal highlights.
The gap between poverty and wealth is extremely palpable in Miami. I would say we live quite well here. But if you see the incredible number of luxury mansions and yachts here and then drive through the "poorer" neighborhoods, then you have to admit that something is wrong here.
The system here makes no sense to me. You can have three jobs and your kids still go to school hungry, which makes you look like a bad parent. But you can also be a CEO, who just pays his employees the minimum wage and uses all tax tricks to buy his third real estate, and still be a highly respected member of the community. With the current government this imbalance will probably not be balanced so quickly. Hard but unfair.
TRAFFIC
On Miami Beach, there can be slow moving traffic during rush hour, but that is not too bad in my experience. But the current construction at the three-lane Causeway which turns into a single lane 15 mph zone now, is annoying! In addition, I would describe the driving style in Miami as adventurous and scary at the same time. This requires an extra article I still have to write.
Fortunately, one does not necessarily depend on a car here, which is rather unusual for American conditions. You ride your bicycle instead (if it's not already stolen), jump into one of the free trolleys or use Uber or Lyft, if you want to drive further away. Of course there are also public transport options such as bus and train (no train on Miami Beach though). However, my favorite means of transport to admire Downton is the free and autonomous Metromover.
Finally, you can also explore a lot by foot. You just have to be aware that you will need a shower afterwards. I have supermarkets, clothing stores, post office, cinema, shopping, restaurants, beach and the infamous Ocean Drive within walking distance. That's pretty handy.
On the mainland everything looks very different again. Here you really need a car, because the distances are just too long and the weather is unpredictable. I have never used the public transport yet. I only know from acquaintances that it can be frustrating. The buses can hardly be on time, because it is always extremely jammed.
AUDIENCE
The people on Miami Beach are very athletic. That's probably the most obvious attribute I noticed so far. People pay attention to their bodies here. Not a day goes by that I do not see at least five women in yoga pants and topless men jogging in the merciless heat. There are countless gyms and yoga classes. Everything the athlete's heart desires. I suppose, that due to the climate conditions and the proximity to the beach, people automatically maintain a year-round "summer figure". In addition, many models live here, who raise the general fitness average.
You do not necessarily have to be rich to live here. But you should know that the cost of living here is much higher than on the mainland. Where you can spend a lot of money, too. On the beach, however, poverty is also omnipresent, because even here there are homeless people who sleep in parks or in the middle of the street. That breaks my heart, you fall so quickly through the extremely rough-mesh social net.
In general, Miami Beach is pretty clean. (Okay, the side streets maybe not so much.) I think that is because many tourists spend their holidays here. Of course, the city is more motivated to clean the Beach, than the less popular corners. By the way, graffiti does not exist here at all. That is a big contrast to my hometown Berlin, which is literally covered in graffiti. If you want to see awesome street art, than you should visit Wynwood, where the artists can let off creative steam. I will definitely write more about Wynwood in my blog.
MULTICULTURAL
Miami is a very multicultural city. It is estimated that at least 150 ethnic groups are represented here and more than 60 different languages ​​are spoken. The chance of finding someone here who shares your roots and speaks your native language is very high. No matter where you come from. However, Latin American influence is most prominent in Miami. The most spoken mother tongue is therefore Spanish, followed by English. Because of this, many Miamians grow up bilingually. However, anyone who can only speak Spanish can sometimes get further in Miami than with English. So I had once waited for a furniture delivery and the supplier called me to discuss details. He did not speak a word of English and I did not speak a word of Spanish. Well, that did not work out. So he just hung up on me. Shortly afterwards, however, an english-speaking colleague called me back and talked to me. We have experienced such and similar scenarios several times. That's the normal madness in Miami.
A few numbers on the population in Miami
Roughly 70 percent of the population is of Latin American origin
Roughly 12 percent of the population are non-Hispanic whites.
The ethnic composition of the city is:
34 percent Cubans
19 percent African American
5.7 percent Nicaraguan
5.5 percent Haitians
3.3 percent Hondurans
Why is the proportion of Cubans so high in Miami? More than a quarter of a million people of Cuban descent live in and around Miami. Reason is the strong influx of refugees in 1959, after Castro had come to power. But even as Castro released Cubans in 1980, who wanted to leave the country, many have settled in Miami. So, if you meet a Cuban in Miami he or she can most likely tell you an interesting story of how they, or their family came to Miami.
Did you know…
that English is not the official language of the USA? Even though politicians try to make it the official language, but so far no one could prevail.
NATURE
I think what I like most about Miami, is the closeness to nature and the wonderfully beautiful biodiversity of flora and fauna. Even today, I am happy about every palm tree I see and every colorful plant that crosses my path. Miami is actually much greener than you might think. There are more than 800 parks and the Magic City is surrounded by two National Parks (Everglades and Biscayne). This circumstance makes Miami unique in the US. Furthermore, Miami is a diver's paradise. About 50 wrecks lie here on the seabed and can be discovered by adventurous divers. I did not know that before. That's why my blog brings me so much joy. After every article I write, I learn something new.