When we moved to Miami, less than three years ago, we said that we would like to travel with one of those oversized ships. At least once. Finally, end of April came and we went on our first cruise, ever. What is life like on a cruise ship and, above all, what do you do at sea all day? What tips can I share? How harmful are these iron giants really? I'll answer these and other questions in my article.
FACTS AND NUMBERS
TRAVEL PERIOD
26th April 2019 to 2nd May 2019
THE SHIP
Royal Caribbean Navigator of the Seas
Length: 311 meters
Width: 38.6 meters
Crew: 1,213
Passengers: 3,138
Baptism: December 6, 2002,
godmother is former German Tennis player Steffi Graf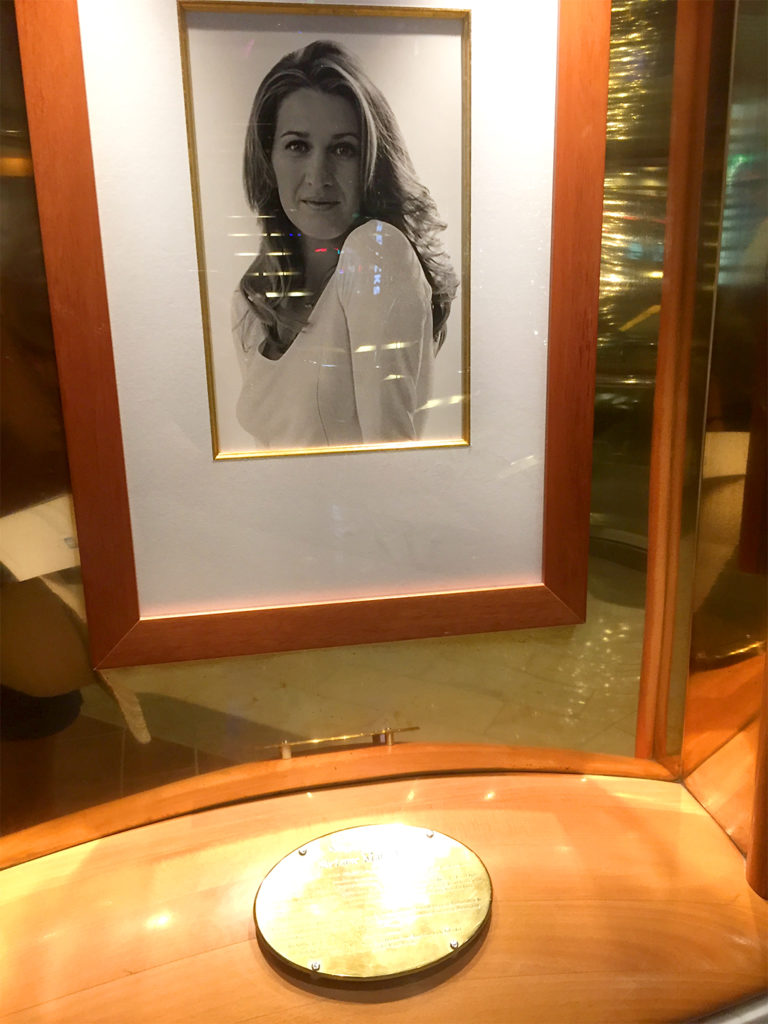 THE ROUTE
1. Miami, USA
2. At See
3. Roatán, Honduras
4. Costa Maya, Mexiko
5. Cozumel, Mexiko
6. Grand Cayman, Kaimaninseln
7. At See
8. Miami, USA
A seafaring is funny,
A seafaring, is nice,
Because there you can see foreign countries
And many other things.

German children song
Well, who knows the lyrics to this song? Honestly, I had to google it. But there is a lot of truth in this German children song. We had a lot of fun during our cruise and at the same time we were able to relax. Within one week we had the opportunity to visit three countries – we have never been before – and dine like kings queens.

DAY OF DEPARTURE
The anticipation of a completely new (travel) experience is still unbeatable, isn't it? We really want to take advantage of this new adventure. (By the way, when I write "we" I mean my husband and my dear mother-in-law.) That's why we decided to board as early as possible. When booking cruise tickets, you can choose at what time you would like to go on the ship. In this connection the first come first serve rule applies. We'd decided to board the mighty ship at noon. Tickets and labels for our luggage were sent to us via email after booking. All you have to do is printing out the Tickes and labels and attach the latter to your luggage.
CHECK-IN
After probably the shortest drive of our lives (10km), we stood in front of one of these floating giants at the Port of Miami. It's a bit hectic and confusing here. These unbelievable masses of luggage make me wonder if everything really gets on board and nothing gets lost. A co-worker told us randomly, that we should just leave our luggage here and go on board. Well… okay … I guess we'll just leave the luggage here, in this chaos … it'll be fine. Yes, my German skepticism is still there, even though I'm living in Miami for three years now.
Now, only equipped with hand luggage, we proceeded to the terminal. Everything is similar to an airport. However, things happen a little faster here. First of all, our tickets are scanned and reconciled with our passports. Afterwards we were guided, like sheep, to the security check. There are no body scanners here, just the good old metal detectors. Practically you can take as much liquids with you as you like. Hallelujah! Except for alcohol though… Then we lined up at one of many queues in order to get our passports and tickets checked again. Since we had not changed our identity in the meantime, we were finally allowed to board the ship.
TIP 1:
Tragen Sie bereits einen Badeanzug oder haben Sie ihn mindestens im Handgepäck. Du wirst es bald brauchen.
ON BOARD OF THE OCEAN GIANT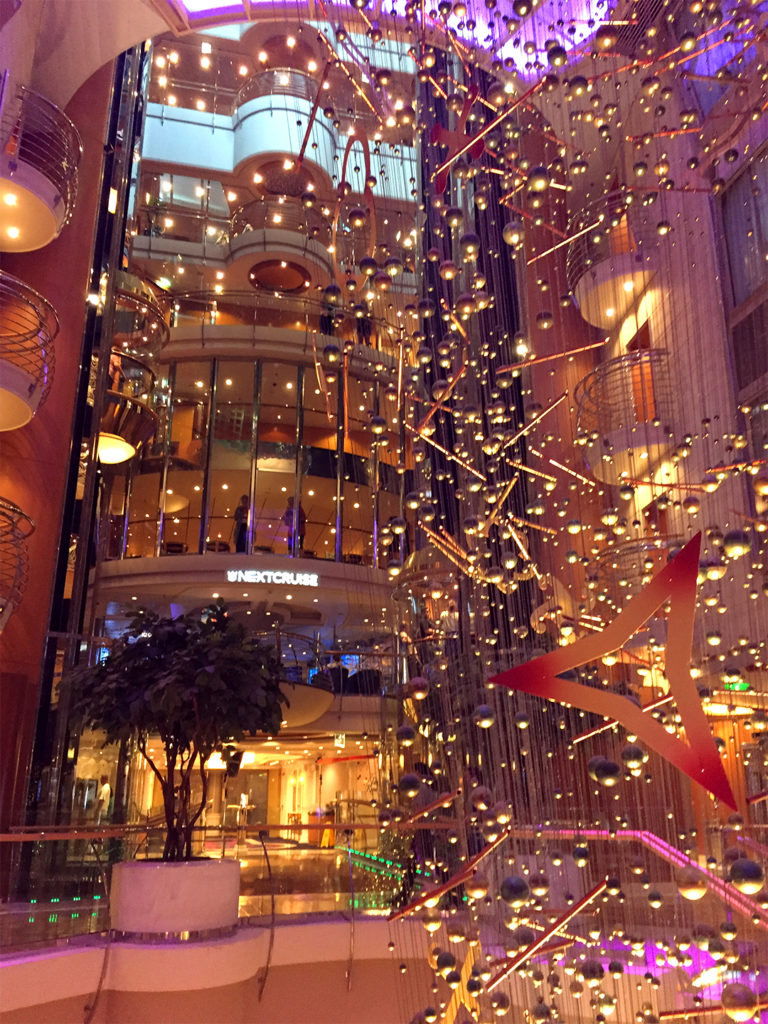 We were impressed by the ship and the atmosphere on board immediately. The sun was shining, the passengers smiled and Caribbean sounds came from the speakers. If you do not get into a holiday mood right away, than I can't help you. Overwhelmed by the first impressions we got on board, we settled down by the pool deck and devoured our first of many many snacks.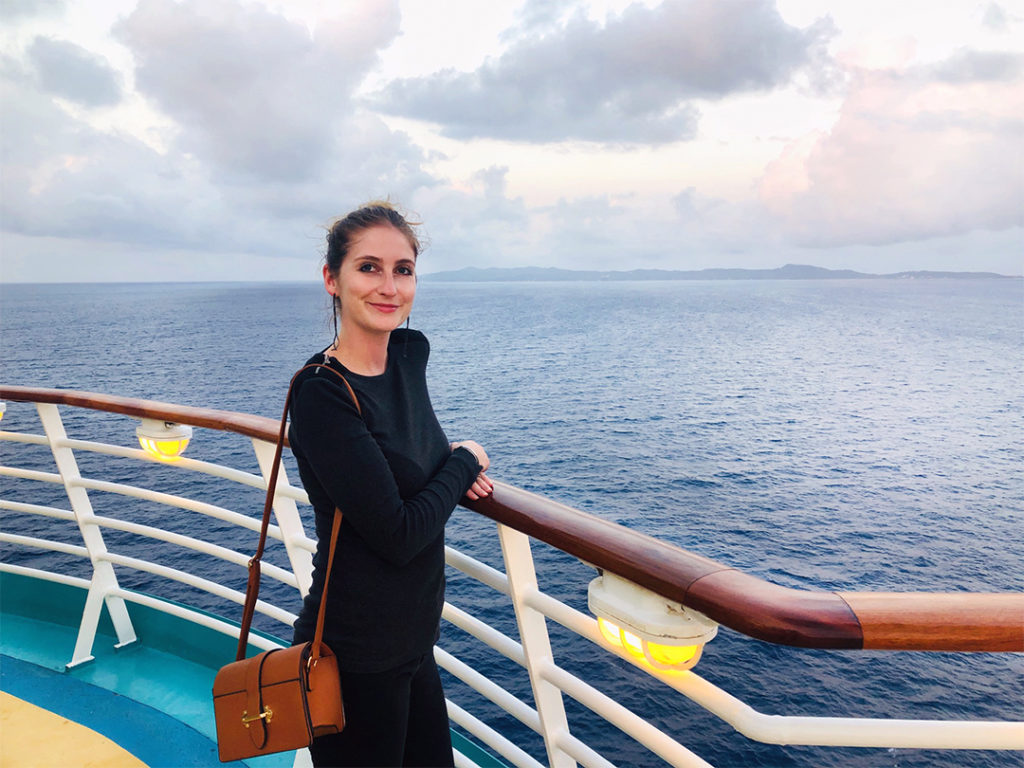 Around 1 pm our rooms were ready for us. Best case scenario: your own luggage is already waiting in front of your cabin door. If not, you have to be patient, as there are thousands of bags on board. Inside our cabin we found our personalized Sea Passes, which also serve as room keys. The Sea Pass represents your identity card at sea. It comes with an individual barcode on the back, with all your personal information (including a current photo). The Sea Pass is always going to be scanned by staff members when you leave and enter the ship. Thus, the personal can quickly determine whether passengers are missing and if so who is missing. If someone really does not come back on board in time, the deposited information will be passed on to local authorities.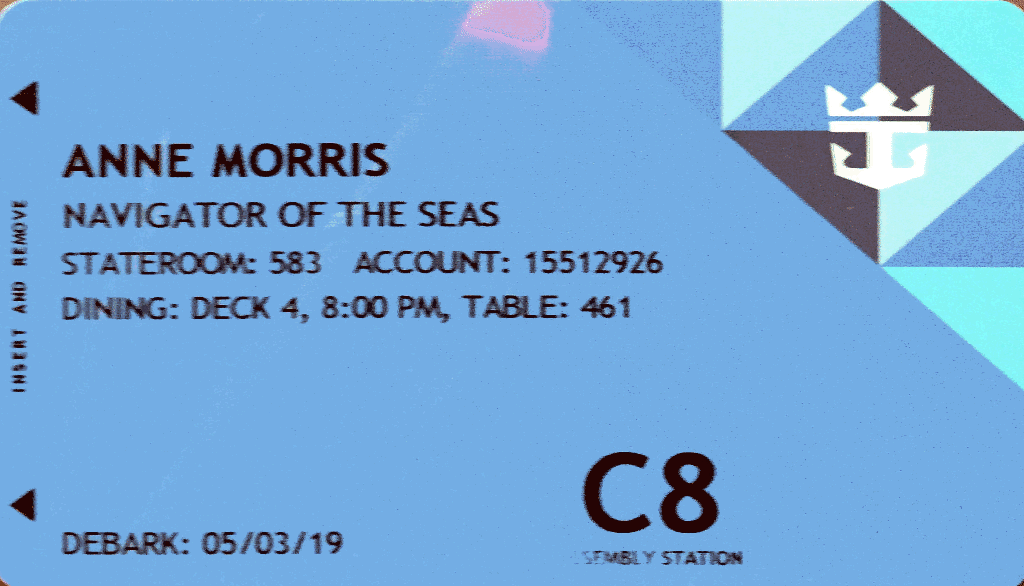 SECURITY ON BOARD
Now that we had located our rooms and slowly but surely got a feeling for the ship, we – and of course all the other passengers – had to take part in an emergency drill. You will find a gate number on your Sea Pass, in our case it is C8. This is our meeting point where we have to come together in case of an emergency. When all the guests had arrived at their assigned gates, we were only shown how to put on the lifejackets, which are available in each cabin. That's it. Short and easy.
Shortly thereafter, the engines came to life and the Navigator of the Seas left the port of Miami. We enjoyed the laying very comfortable on the sun loungers with a view.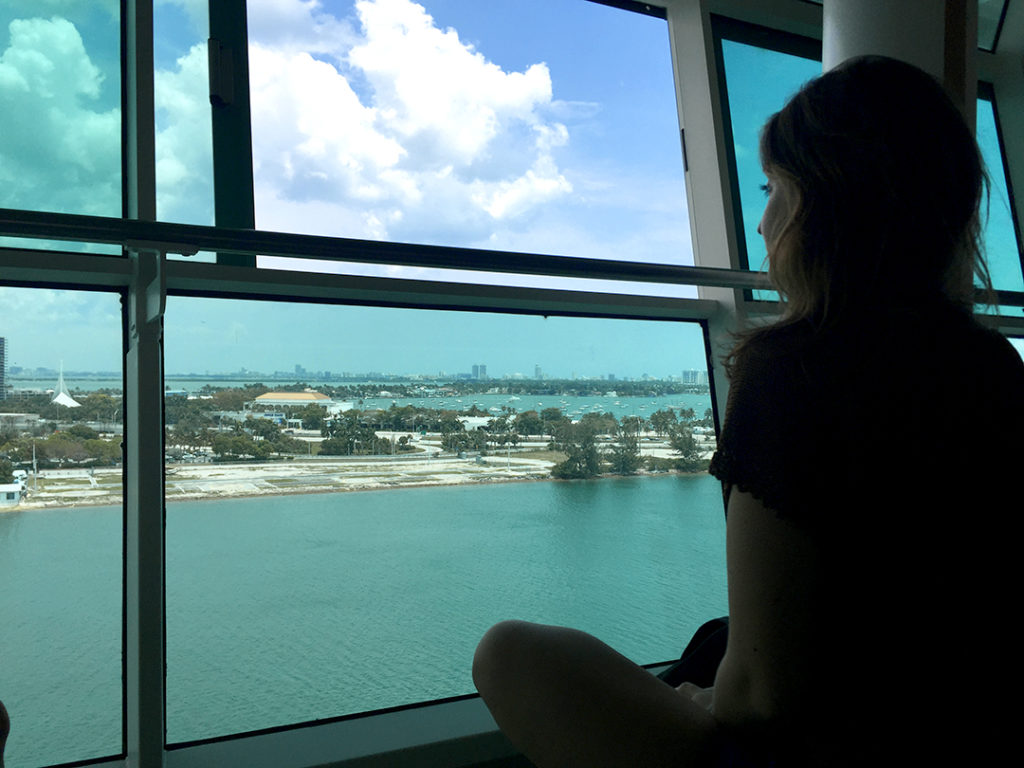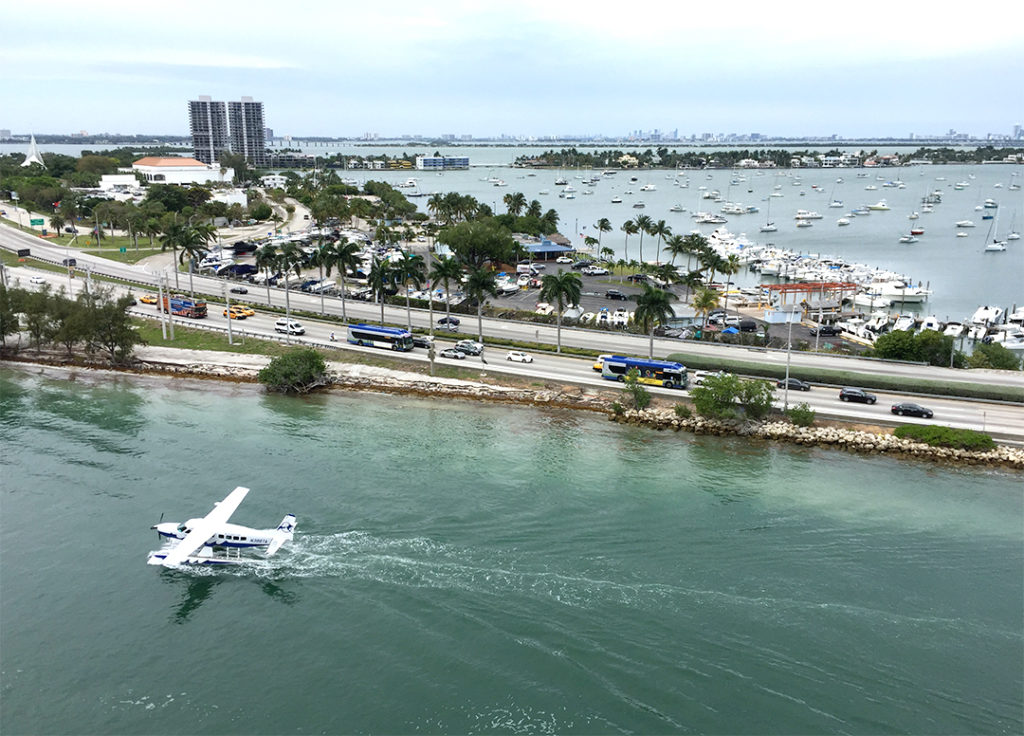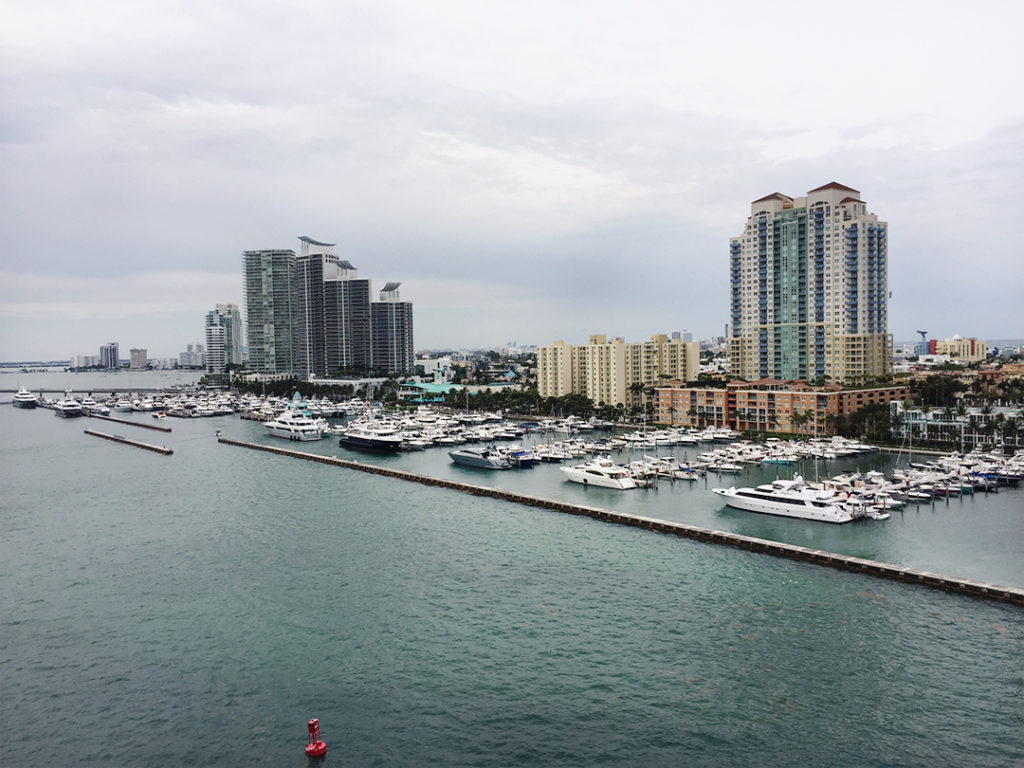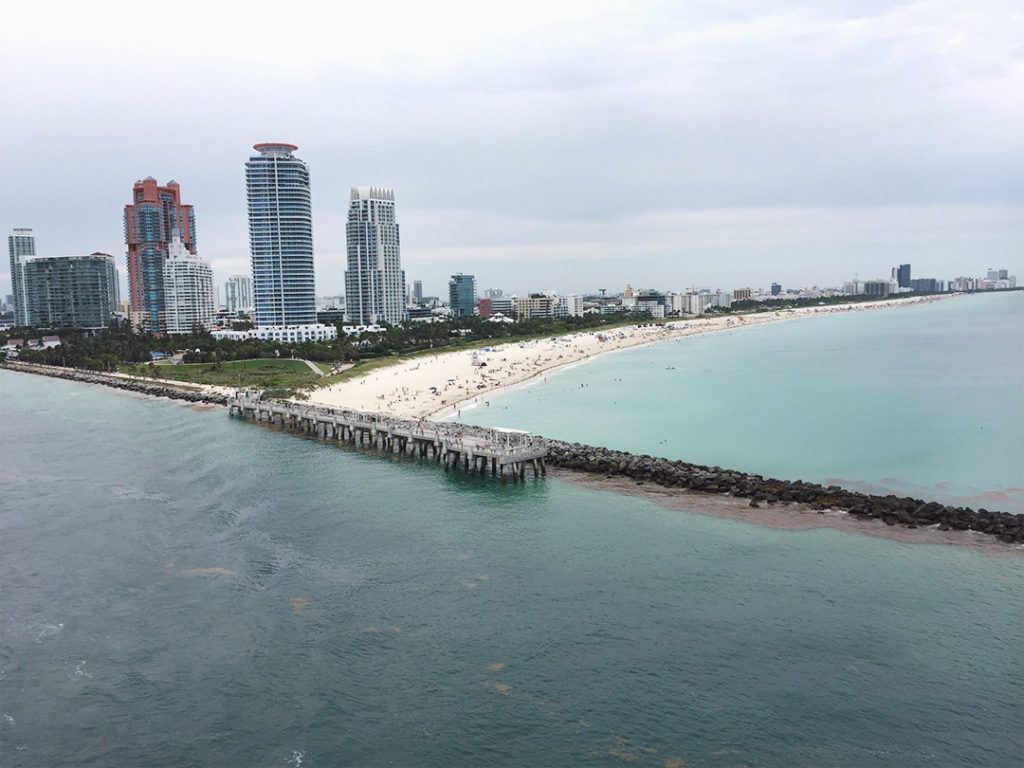 TIP 2:
Find yourself a nice place, in time, to enjoy the laying of the ship.
We spent our first evening at sea quite comfortably in this striking dining room. We were able to choose our three course menu from a fantastic selection. But see for yourself what a brilliant table we got. This chandelier rocks, doesn't it?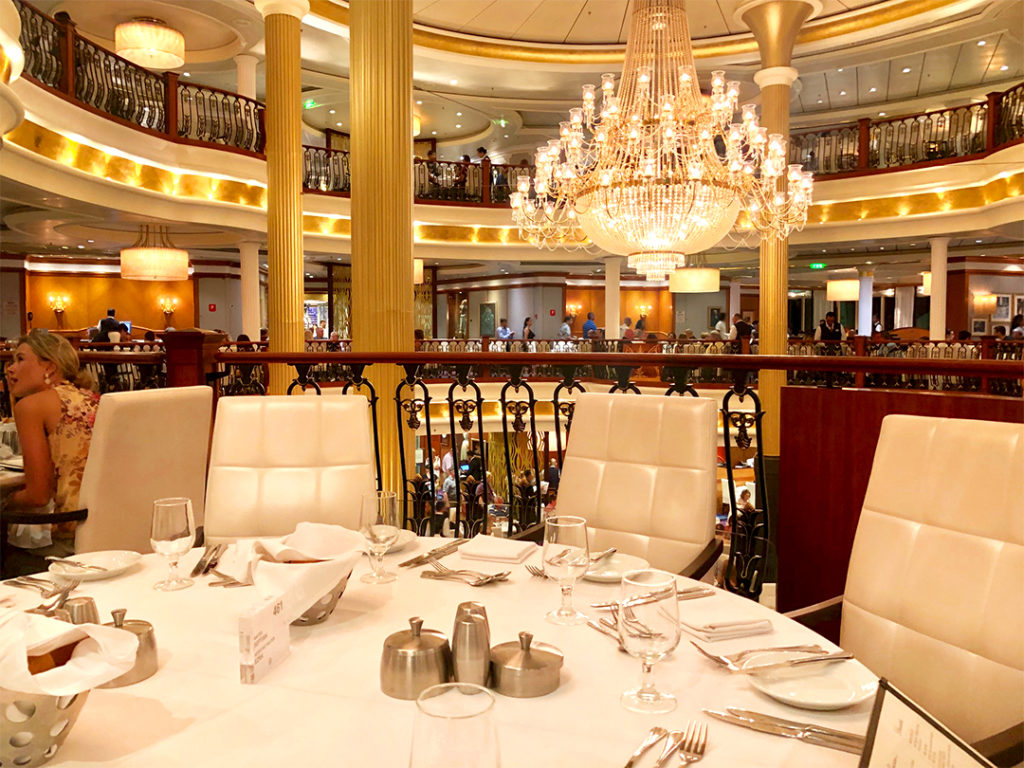 FIRST DAY AT SEA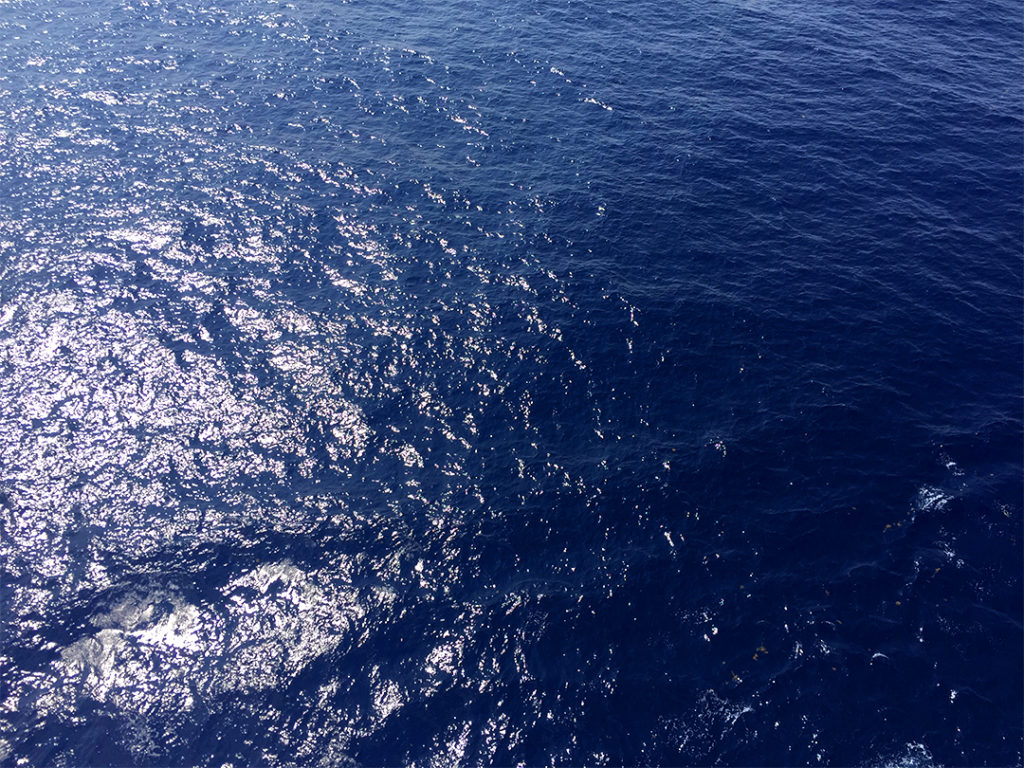 WE ARE LOCATED IN A BUBBLE

On our first day at sea we spent most of the time on the pool deck. The deck is divided into two zones. There is the so called "adult zone" followed by the "party zone", that's how I would describe it. The music was kind of loud and penetrating, every now and again bands would perform live. That's perfect to get into a party mood, but I personally do not need it all the time. Therefore, I was very happy about the quieter zone, honestly. There are three pools and five Jacuzzis in total, where you can splash or relax. There are also two decent water slides, some of the parts protrude beyond the railing and are made out of transparent plexiglas at these spots. For the extra portion of adrenaline. You can romp around on the deck really good, because in addition to the slides and pools, there is a climbing wall, a surf pool, a basketball court, table tennis and at the stern of the ship there is a cute miniature golf course. Even a small skating rink is located on board, cause that is what you need on a Caribbean cruise.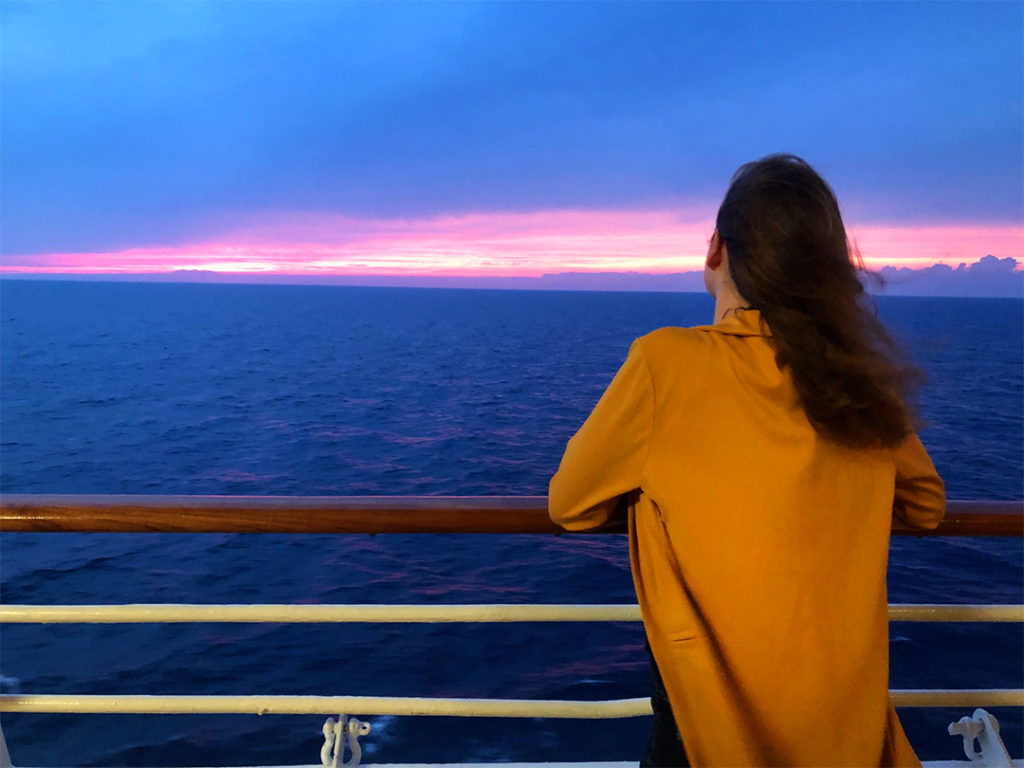 Mainly we used the first day at sea to explore the huge iron giant and to try out as much as possible. Do not worry, we did not forgot about the relaxation and especially not the tremendous amount of food. Believe me ;). Incidentally, you do not realize at all that you are on a ship. You can feel the ship's mighty engines a little bit if you lie in bed in the evening, but that's about it.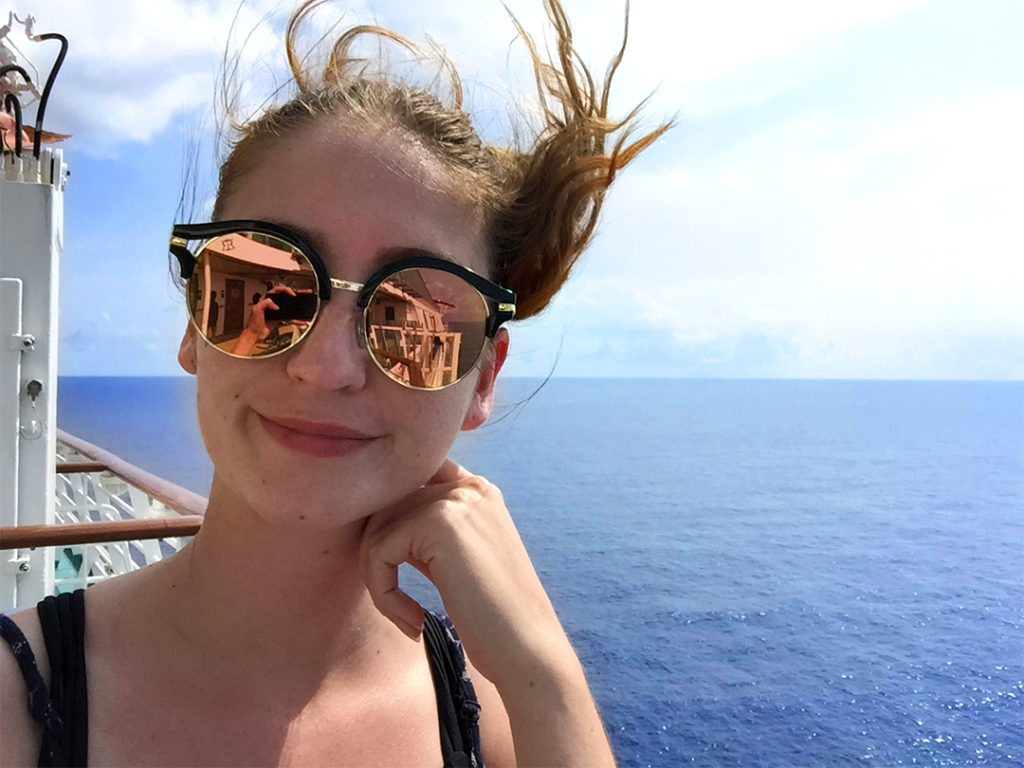 ROATÁN, HONDURAS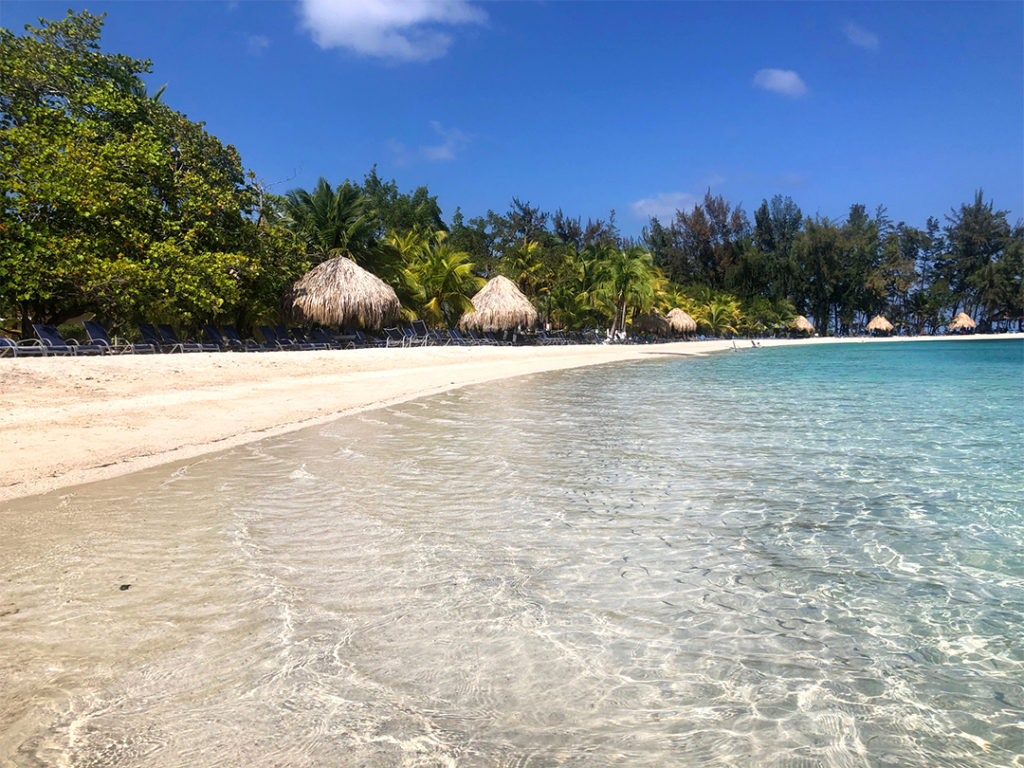 On Sunday morning we reached our first destination: Roatán. The cute 125 square kilometer island belongs to the archipelago of the Islas de la Bahía and stands out through its green covered ridge. About 30,000 inhabitants call Roatán their home and live mainly from tourism and fishing. On this Sunday morning, numerous cruise tourists visit this small island, which is only 65 kilometers off Honduras' coast.
When we arrived in at the port of Coxen Hole – the "capital" of Roatán – we were greeted by traditional Garífuna music. As for now, one cruise ship can dock right on the wharf, but a second dock is already under construction, like so much other buildings here on the island. Thus, there will be even more cruise tourists on this tiny Central American island in the future. Incidentally, Mahogany Bay has another cruise ship port which is used by Carnival and Princess Cruise Lines. More than 250,000 visitors come to this inconspicuous spot every year and are especially impressed by the well-preserved nature.
Garífunas are an ethnic group that emerged from a mixture of West African slaves and Indigenous Caribs in the 17th century.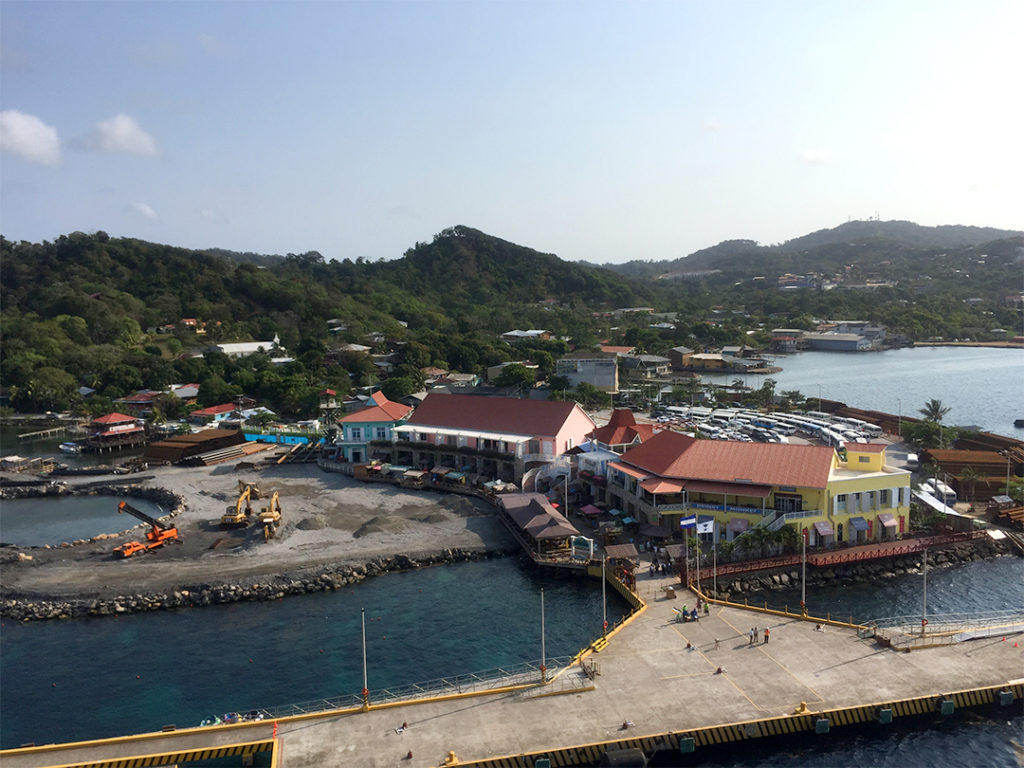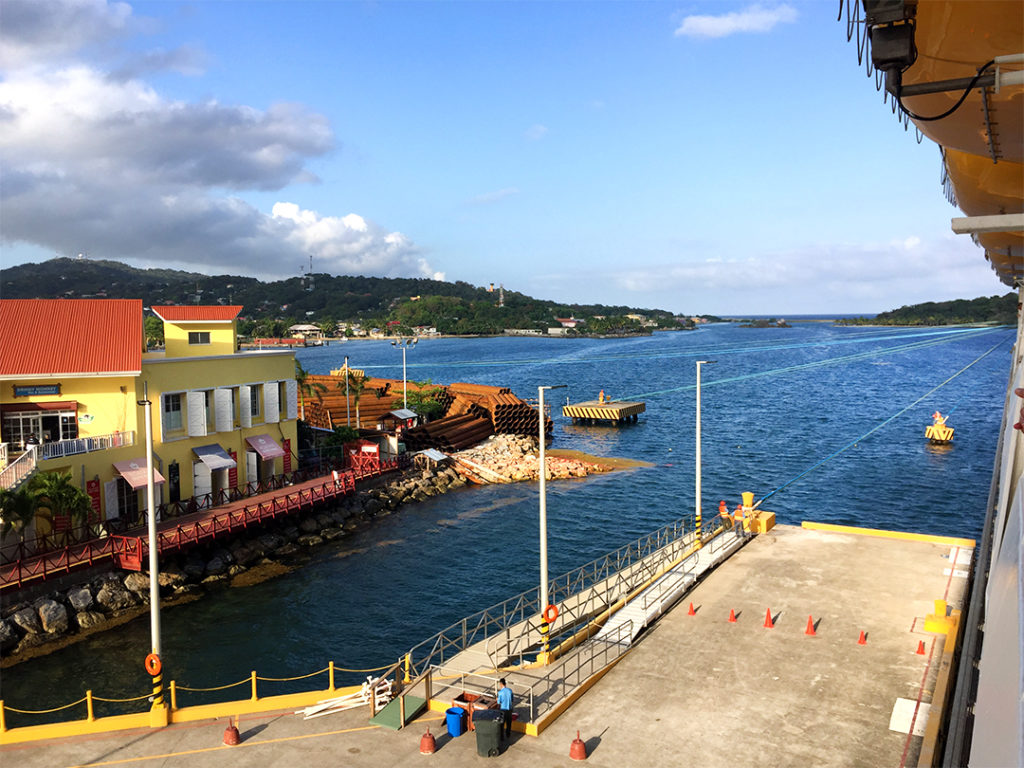 WHAT DOES ROATÁN OFFER?
Divers and water sports enthusiasts will get their money's worth at the Belize Barrier Reef, the second largest coral reef in the world. The underwater world is still unharmed here and impresses with its biodiversity. About 350 species of fish are said to feel at ease here, with dolphins, sharks and even whale sharks randomly say hi. Accordingly, the offer for diving, snorkeling and boat trips is quite large. But there are also offers for landlubbers. For example, you can hike through beautiful nature, do a sightseeing tour, or learn how to plant cocoa trees and make chocolate like the ancient Maya. (Why did not I do that?)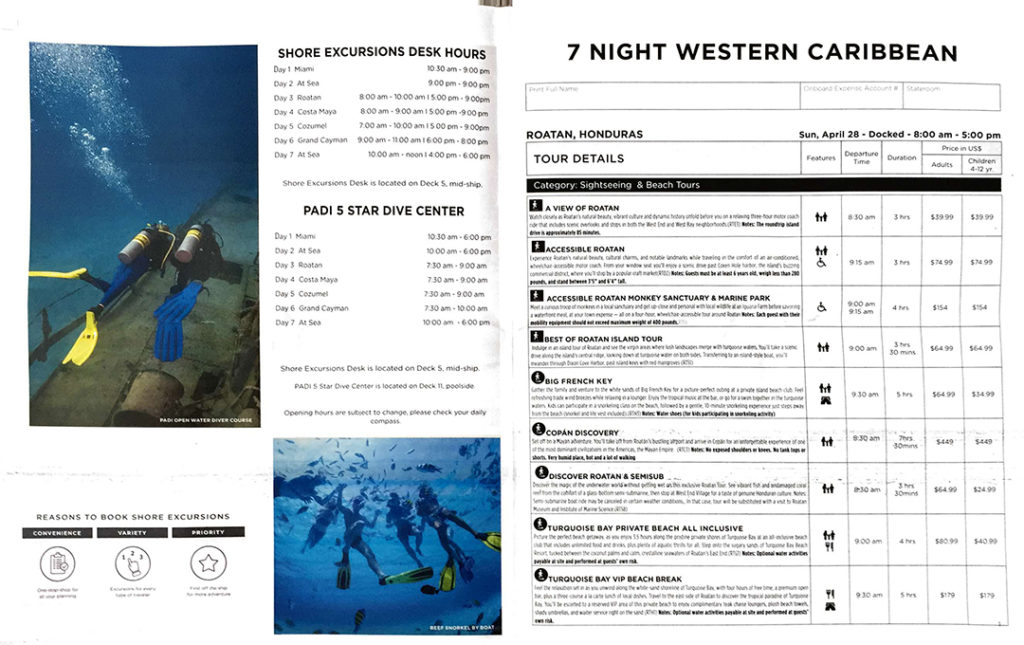 Visitor numbers continue to rise, but locals say they want to learn from the mistakes of other islands with strong tourism. Thus, it should be ensured that the intact and versatile nature is preserved. After all, it is the main reason why so many tourists find their way to the island. That's why there are no big hotel complexes here and you can not fish by the reef. The mainland is hoping for more tourists through Roatán's growing popularity. In 2018 alone, Honduras invested a whopping $ 350 million in the tourism sector. Central America is becoming an increasingly popular destination.
OUR DAY ON ROATÁN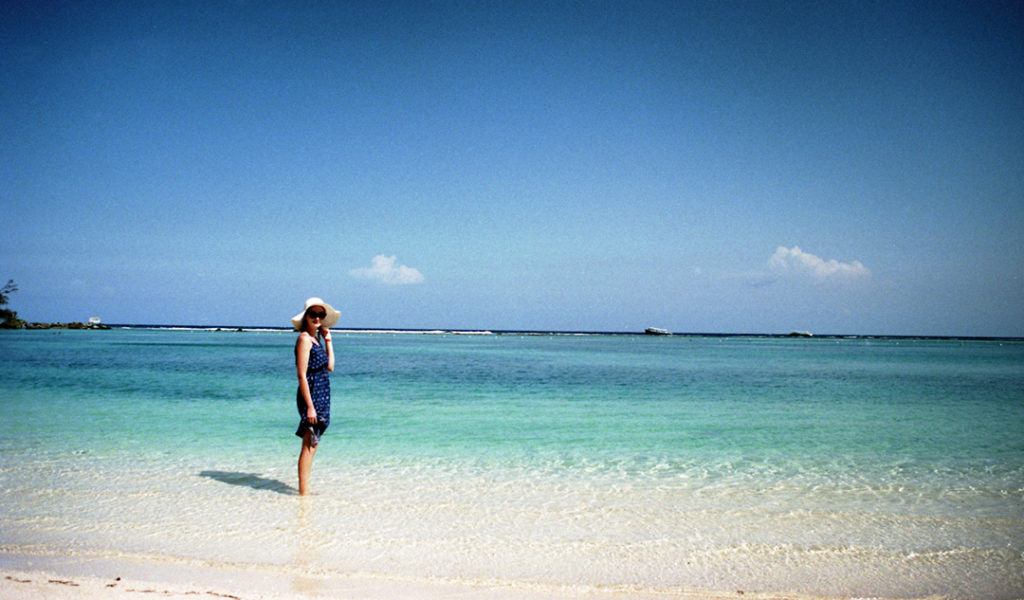 We opted for a relaxed first day on land and booked a beautiful private resort in advance. Our contact person as well as the majority of Roatans speak English. He took us to a van, which should take us to the Fantasy Island Resort. While we waited for the remaining tourists, he gave us some information about the island he loves so much. He also provided us with a fresh mango that just fell from a tree. Which we will later describe as: "The best mango we have ever eaten."
When all participants arrived, we drove off to the resort. Which by the way we booked via a third provider called Island Marketing. While driving through Roatàn, our driver made us aware of some things regarding this inconspicuous island. For example, you will find an airport and million-dollar mansions here, while the vast majority of locals live in their wooden houses. Next to the public hospital, there is a quite modern, new private hospital. Now you can guess who is not able to afford that … right: the locals.

When we arrived at the resort, we got on the loungers right away and made ourselves comfortable. We were splashing, snorkeling, sunbathing, reading, relaxing and sipping cocktails (from plastic cups though…). The perfect feel good program for about $30 per person including shuttle service. At some point some "Island Rabbits" showed up to say hi, but if you don't have anything to eat, they will run away just as quick they came. Adorable little creatures, which are actually called Roatán Island Agouti. Sometimes pigs, horses, tropical birds or lizards cross your path as well, so you might want to keep your eyes and ears open.

BACK ON BOARD
In the afternoon, just as agreed, we were picked up by our driver who brought us to the port. Back at our floating hotel we decided to watch the Impact! Show at the Royal Theater. In this musical show singers present well-known songs and are supported with respective dance performances. The singers and dancers were impressive and those costumes were a real eye-catcher. Just moments after the show started, my seat neighbor – an elderly woman – nudged my arm and proudly announced that the singer is her son. I smiled and was very happy for her. Shortly thereafter, she nudged me again and pointed to a dancer and said: "This is my other son." Well, now I was extremely proud of those talented gentlemen as well.
TIP: 3
Take time to watch as many entertainment shows as possible. Too often, you do not treat yourself with that kind of entertainment in everyday life.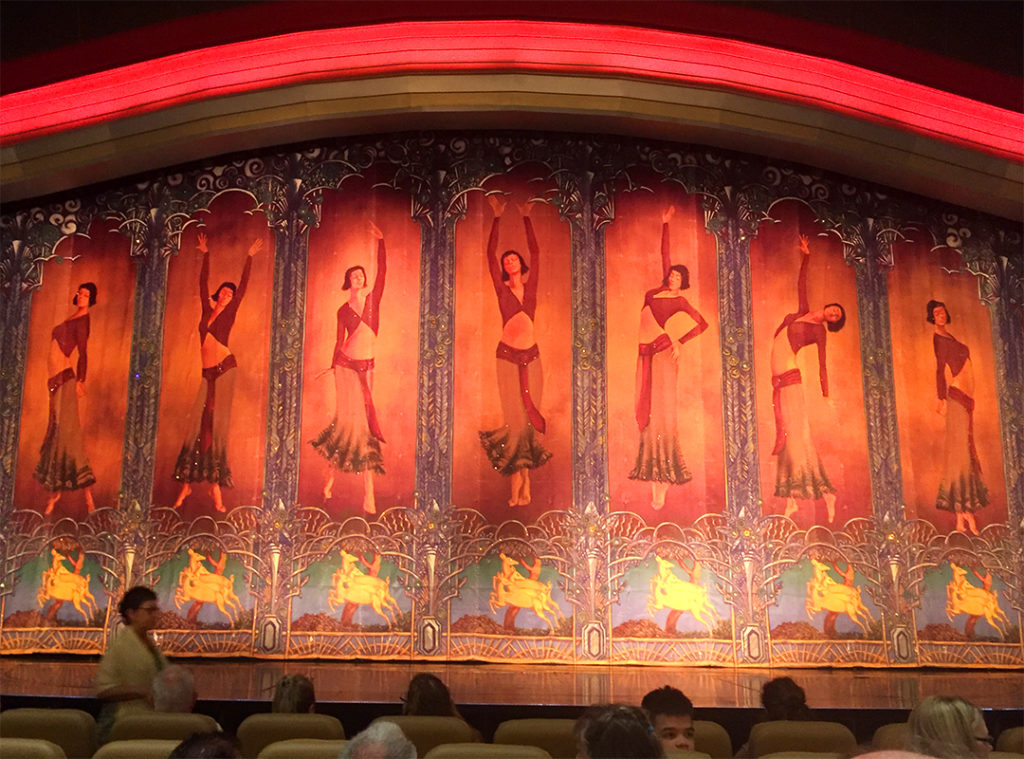 COSTA MAYA, MEXICO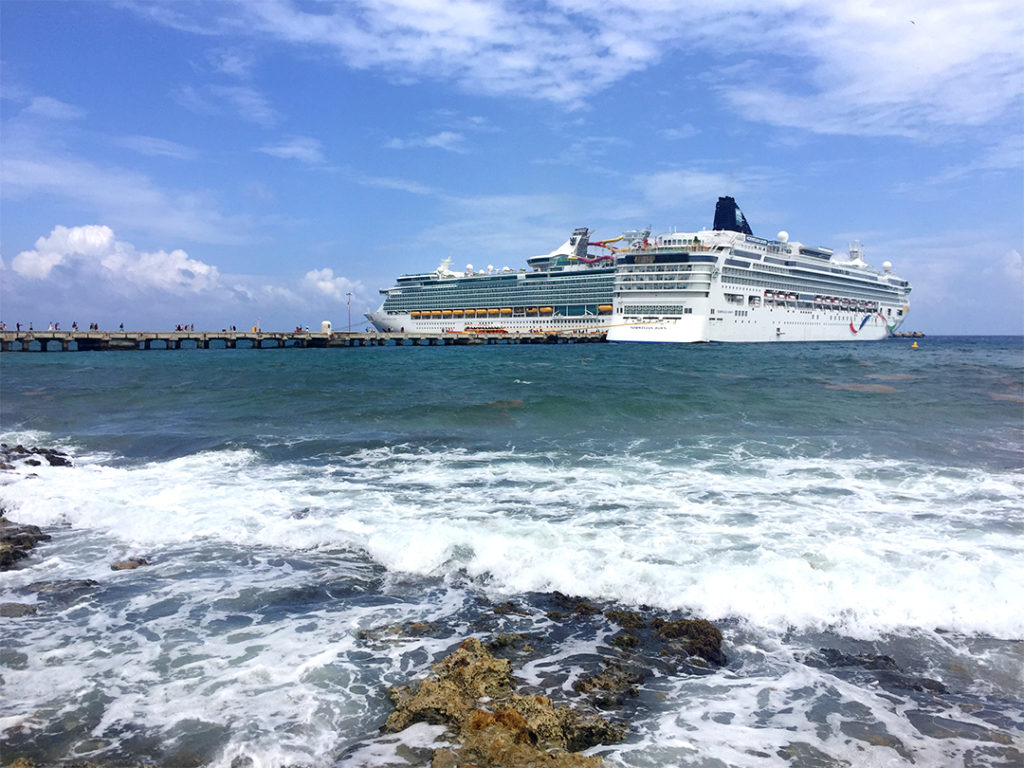 DANCE OF THE FLYING MEN
Unfortunately we weren't lucky with the weather in Costa Maya. As soon as we reached the port's market place, it started to rain cats and dogs. At least, we were able to watch the Danza del Volador (Dance of the Flying Men) before the heavy rain hit Costa Maya. In this pre-Columbian ceremonial dance, five men climb onto a 25-meter high stake. The brave four men abseiling head-on symbolize the four cardinal directions. The fifth man – who was missing in this particular dance – stands for the sun.
Here you can see the video of the Danza del Volador.
Right after this thrilling dance was over, it began to rain like crazy. The fertility aspect behind the Danza del Volador has worked very well. When the rain did not even fade a little bit after 20 minutes, we accepted our fate and jumped from one store into the next. We spent a lot of time in these shops and bought some beautiful pieces. As this "monsoon" had finally eased a bit, we waded across the square barefoot, until we reached a stop. Here, we took one of the trollies, which brought us to neighboring Mahahual. Once there, we were able to walk a bit along the beach promenade and got an impression of the area.

MAHAHUAL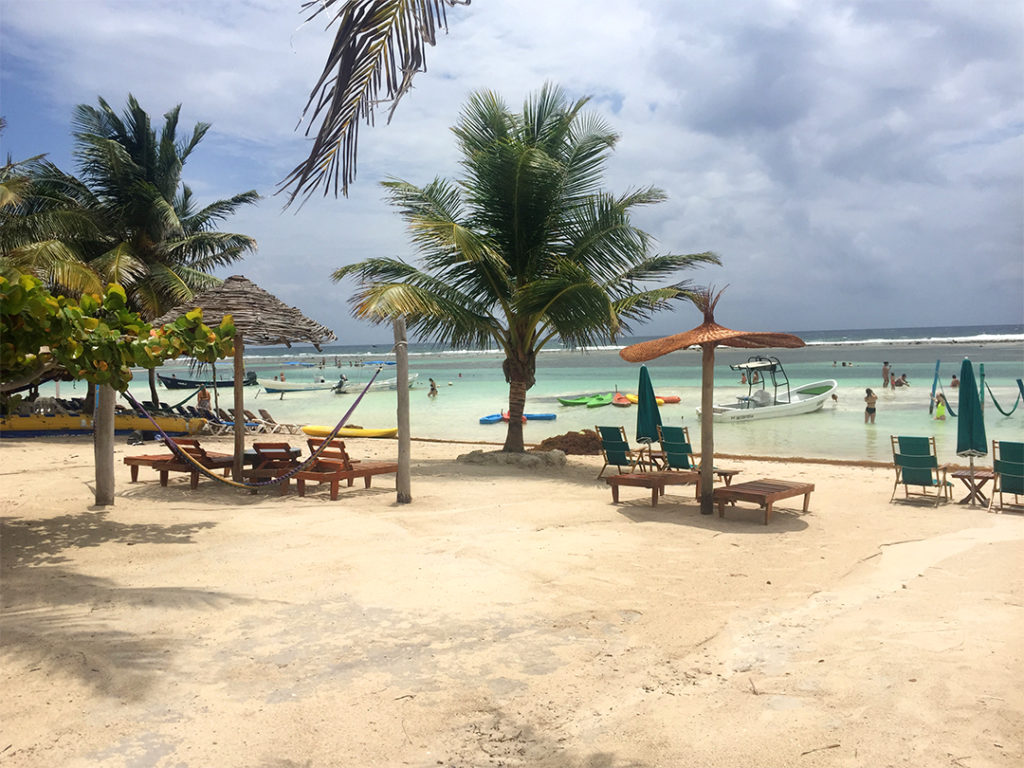 Unfortunately we didn't see anything else in Costa Maya except for the beach, since we hadn't booked a tour. Most tourists seemed to relax on the beach or got some action in Costa Maya Village or Lost Maya Kingdom right next to the harbor. These attractions are only available, because of the cruise ships that stop here. Previously, the area around Costa Maya was not very well developed.
After refusing dozens of massage offerings, we sat down at one of the tables right on the beach and ordered fresh Red Snapper. It was delicious and with all the side dishes we were well fed. In between, we had to flee from the rain again, but that wasn't too bad. The atmosphere here was somehow so relaxed, that we found it rather amusing.

TIP 4:
Always have a plan B if plan A literally falls into the water.
While we enjoyed the beach, we were also approached by many sellers who tried to sell us their goods. Sure, they have to provide for their families, but eventually it's just too much, when you simply want to relax. After we finished our tasty lunch, it started to rain once again. That's why we decided to call it a day and returned to the Navigator. But when we arrived at the harbor's marketplace, we miraculously landed in some shops. I always wonder how this is possible.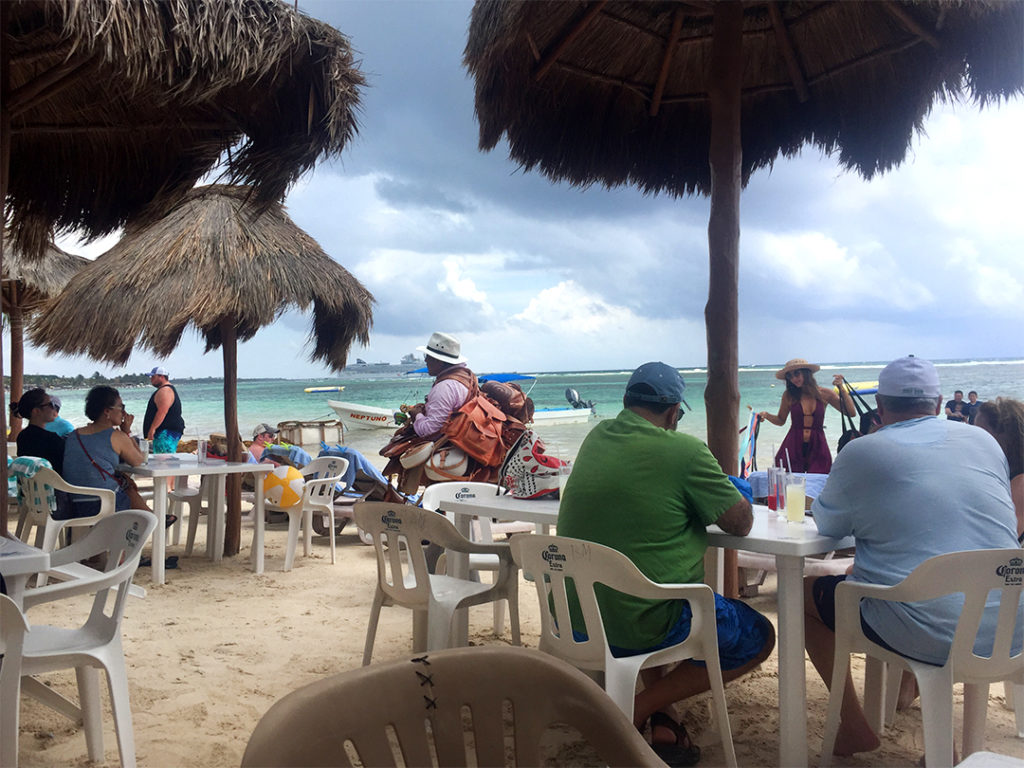 THE LOOSER
After buying beautiful chains, bracelets and earrings, we strolled to the Navigator. En route we passed an outdoor pool where you can swim with dolphins. And there he is … the loser in this whole mass tourism business concept: dolphins. I have to say that I was deeply disappointed by Royal Caribbean, because they offer such kind of encounters. I find it awful and outdated. Dolphins belong into the wild and should not be abused for selfish entertainment purposes. Period. I do not discuss that further.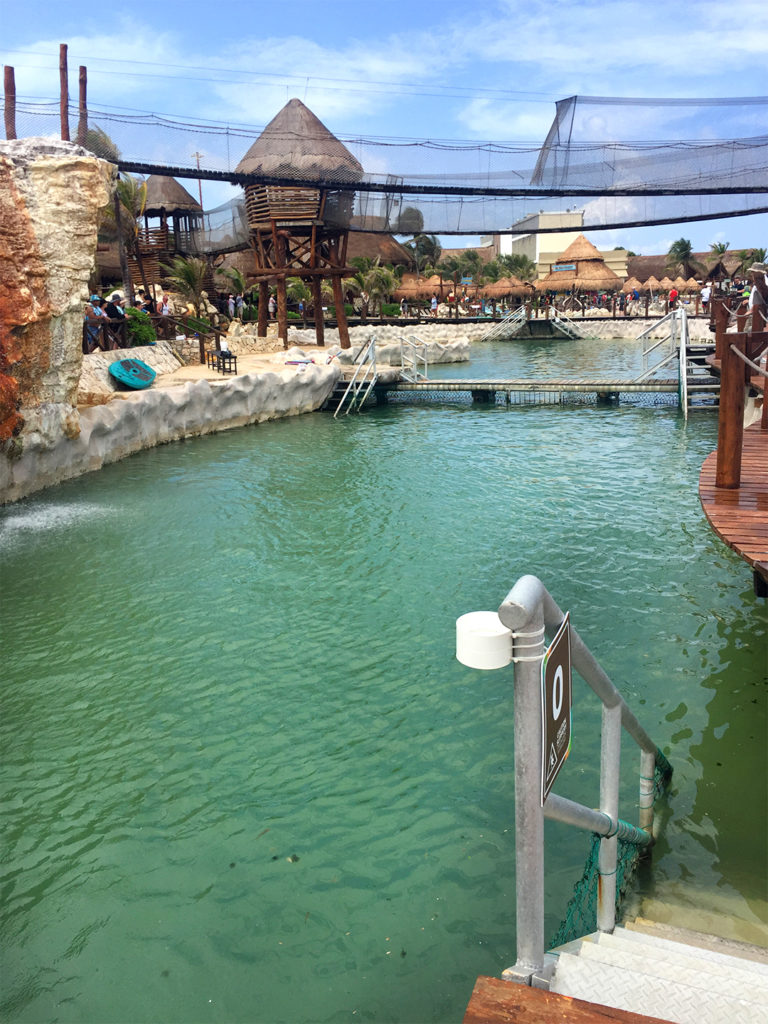 HELLO DREAM BUBBLE
Back on board, the sun finally came out again. It's so typical, right? Anyhow, we soaked up the sun on deck for a while before we went to see the figure skating Show iSkate – Reach for the Stars. I don't know how the figure skaters (there were six or eight of them) managed to skate on this relatively small rink. I've never seen anything like it. Wild pirouettes were performed, somersaults were struck and somehow nobody slipped into the one another. The music was also chosen appropriately, the choreography was highly complex and the costumes were once again a sight for sore eyes. I was totally blown away. A very modern and creative show.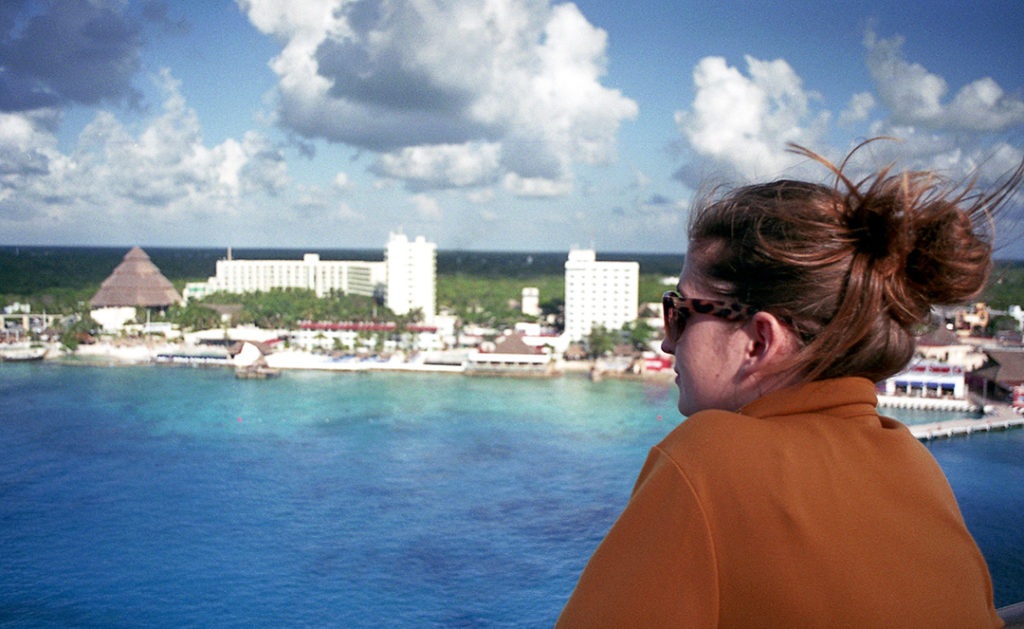 COZUMEL, MEXICO
Unfortunately I can't tell you anything about the Mexican island Cozumel, since we took a ferry to go to the mainland. Phew, those 40 minutes were exhausting though. The sea didn't look that rough, but guys… I'm not gonna lie, it was torture! It was a wild ride. Actually I got a pretty sturdy stomach, but even I had to concentrate pretty hard in order not to puke. The guest sitting behind me wasn't very helpful either when he announced: "Wow, that's not good for my hangover." Luckily we made it to Playa del Carmen without major incidents.

A DREAM COMES TRUE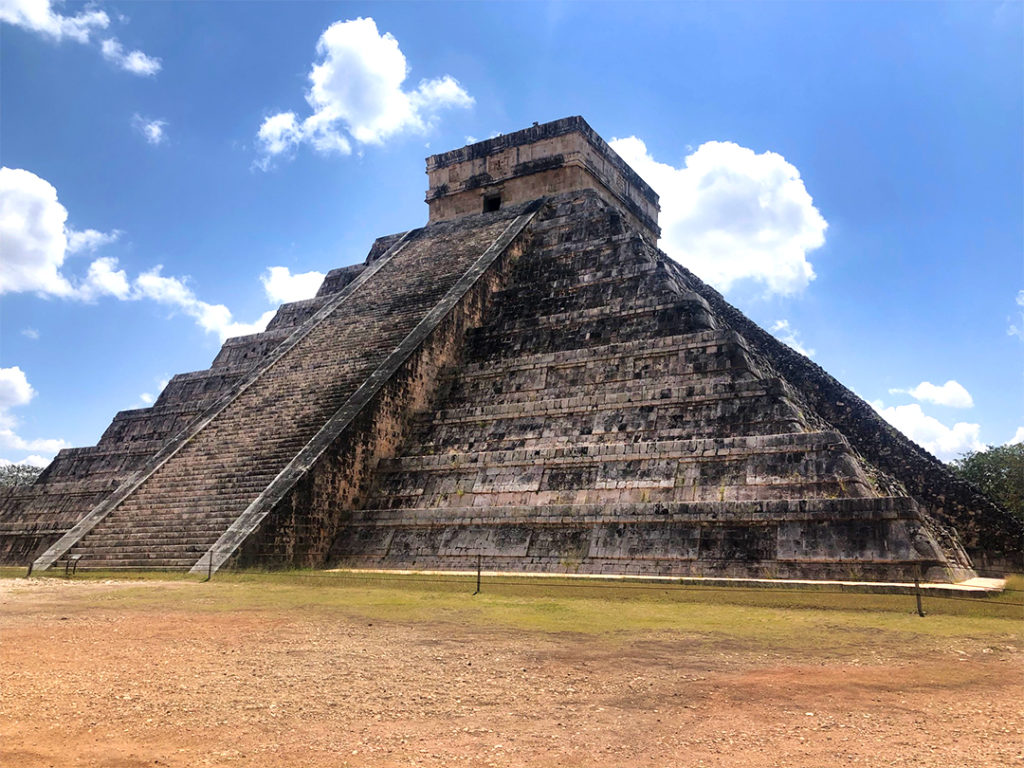 Now we just had to find our guide for our booked tour to Chichèn Itzà. By the way, with this shore excursion a small dream of mine finally came true. Since I've finished school, I really wanted to see the Mayan pyramids with my own eyes. Back in school when I did my A-levels, I'd given a lecture about the Maya as part of my exam. I've been fascinated by this mysterious culture ever since.
In Playa del Carmen everything was pretty good organized. Thanks to well labeled signs, we quickly located our guide. He took us to a shop where we got our lunch boxes for the day. Afterwards we got into a minibus (I think we were about 10 to 12 people) and drove to Chichén Itzá. En route our guide provided us with tablets, thus we were able to follow his explanations about the Maya and their culture. I am a very visual person and was thankful for these tablets. Unfortunately I forgot our tour guide's name, whose name, but he was really awesome! His English was perfect and he had an answer to every single question. It took us a little over two hours to get to the pyramids, and boy… it's so worth it.
FUN FACT
We all know and use a certain Mayan word without even knowing it. I probably say it dozens of times a day. Xocoatl. Yes, that's right. ? The first syllable xoc [oatl] is pronounced like choc [olate]. Incidentally, the Latin name for the cacao tree, Theobroma cacao, means "food of the gods". I didn't expect anything less.

CHICHÈN ITZÀ – ONE OF THE NEW SEVEN WONDERS IN THE WORLD
After we arrived at the temple complex, we were immediately supplied with water and led into the mysterious world of the Maya. Our tour guide took us around through the more than a thousand-year-old Mayan city for about 60 minutes and told us everything you need to know about this ancient site. A couple of anecdotes from his times as an archeology student couldn't be left out. For example, once he had to climb the pyramid of Kukulkán wearing a 20-kilo backpack. Thus he experienced quite a realistic feeling for how the Mayan kings and priests must have felt back in the days. Rituals were extremely important in Maya culture. The gods had to be satisfied on a regular basis after all.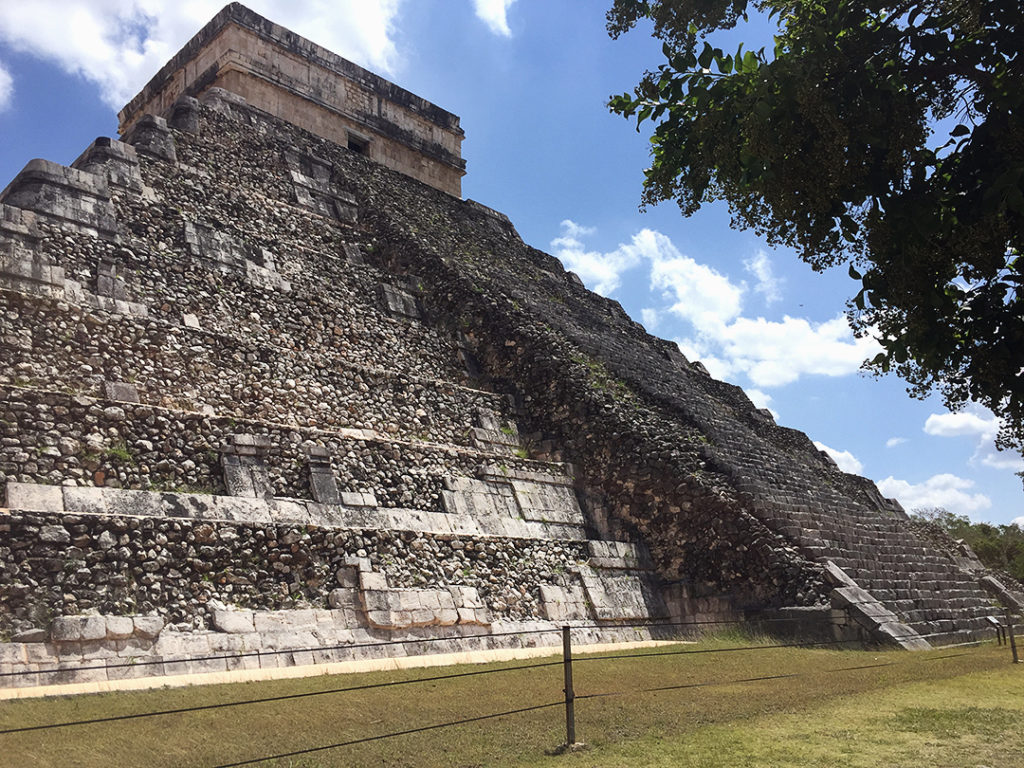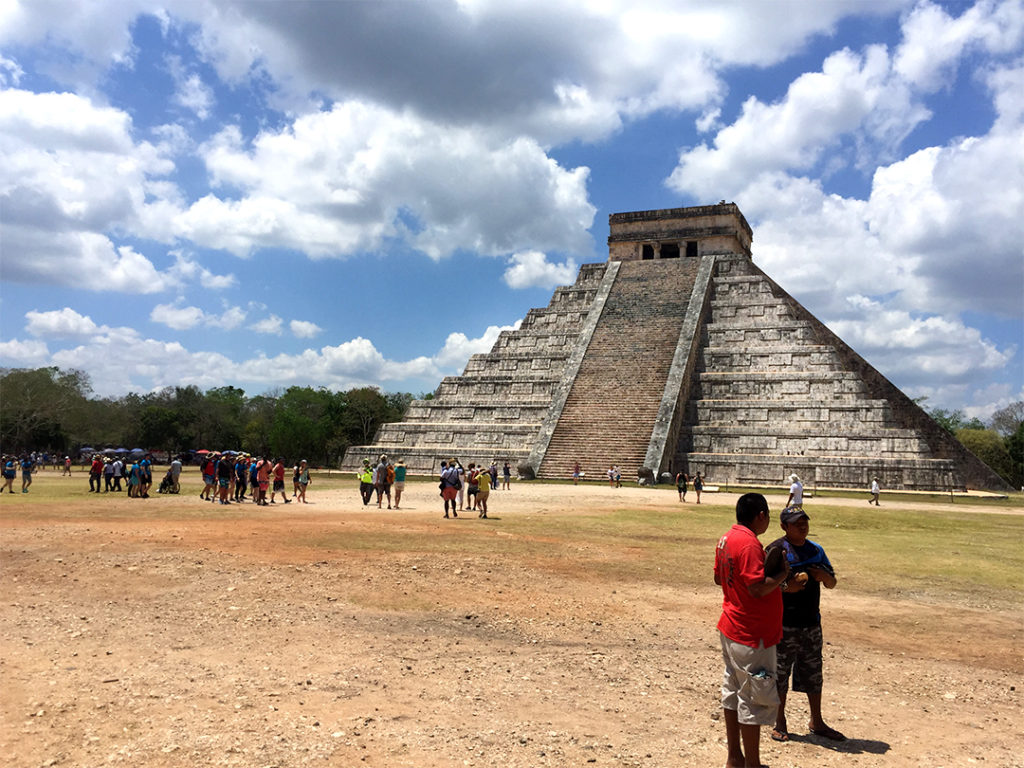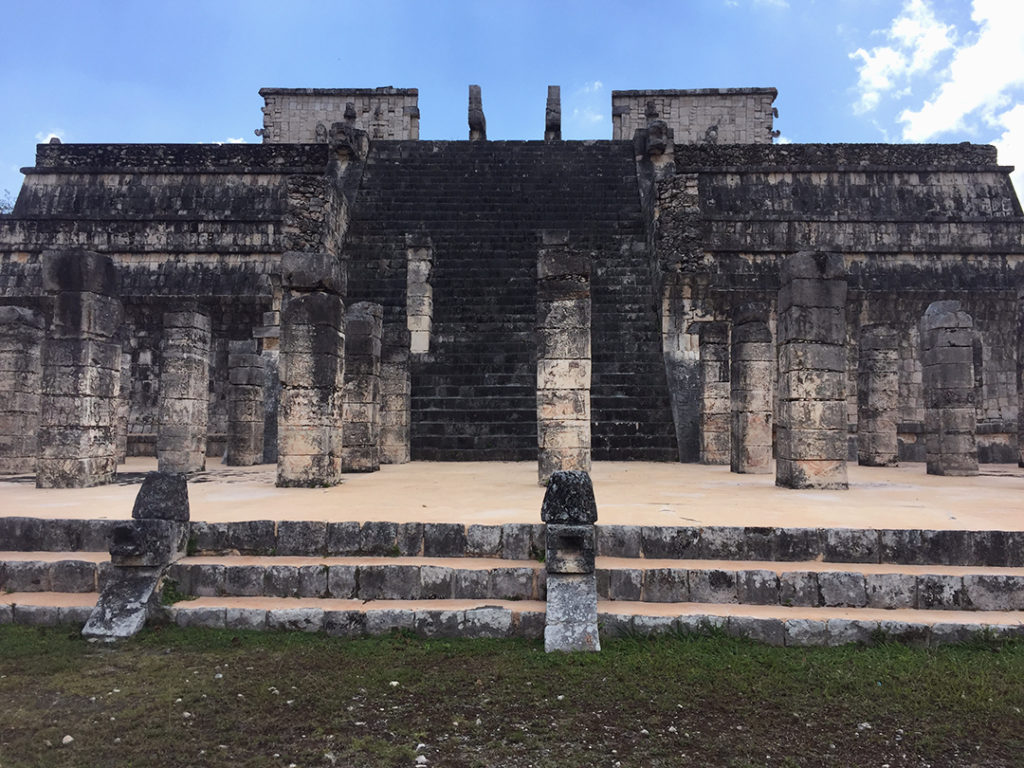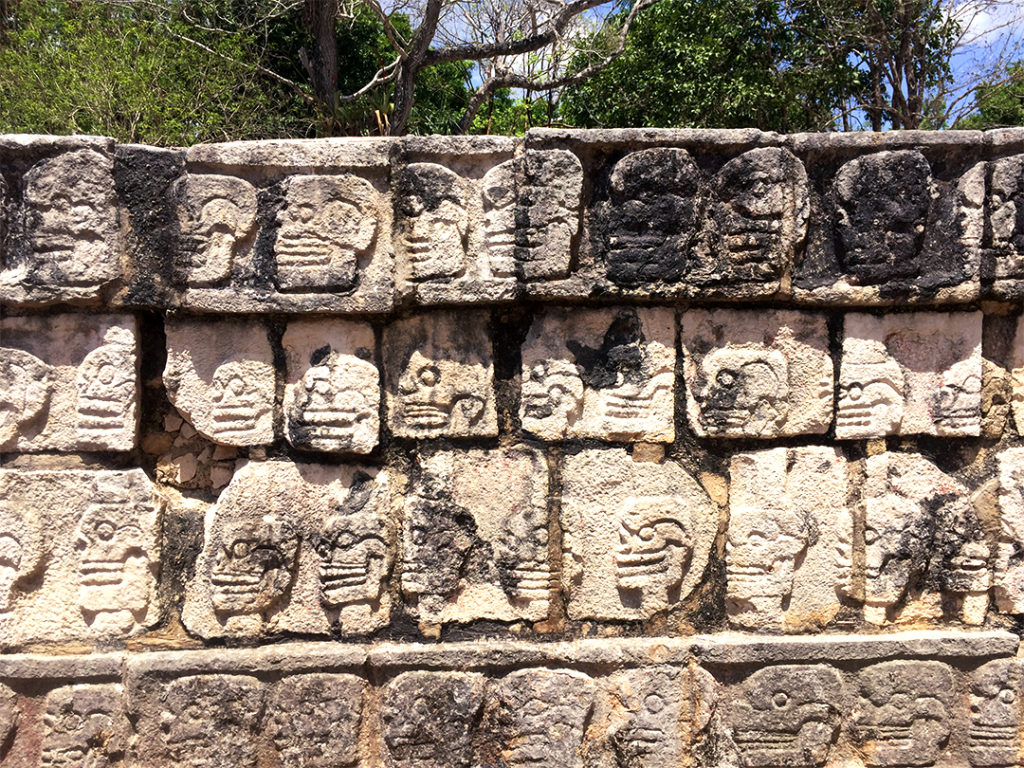 BALLGAME
Little is known about the famous Mesoamerican ballgame. So far, however, more than 1,500 ball courts have been discovered. For archaeologists, it is still very difficult to figure out the rules and – even more important – the meaning behind this game. Because each new discovery is accompanied by different glyphs and representations. Sometimes the game serves religious or ritual purposes, but sometimes political decisions are made depending on the outcome of the game.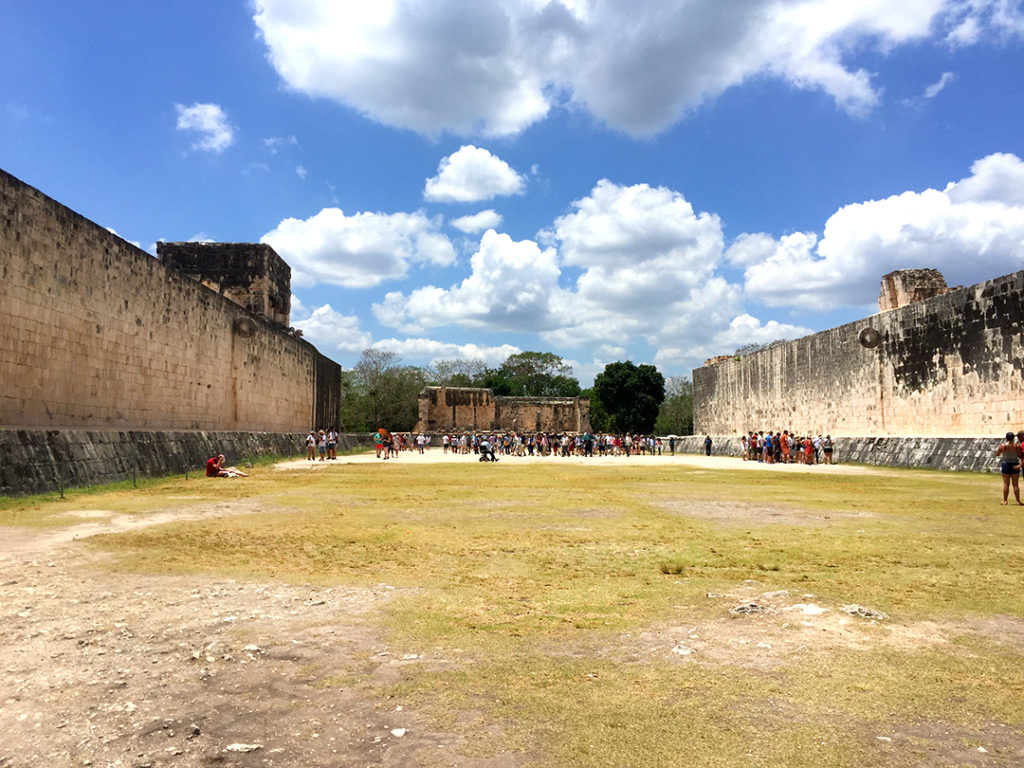 In Chicén Itzá our tour guide assured us, that the rings weren't goals. At least not in this particular ball court, as it is impossible to carry a rubber ball – with the weight of a medicine ball – through this relatively small ring. The ball was allowed to be touched only with one's shoulders, hips and elbows.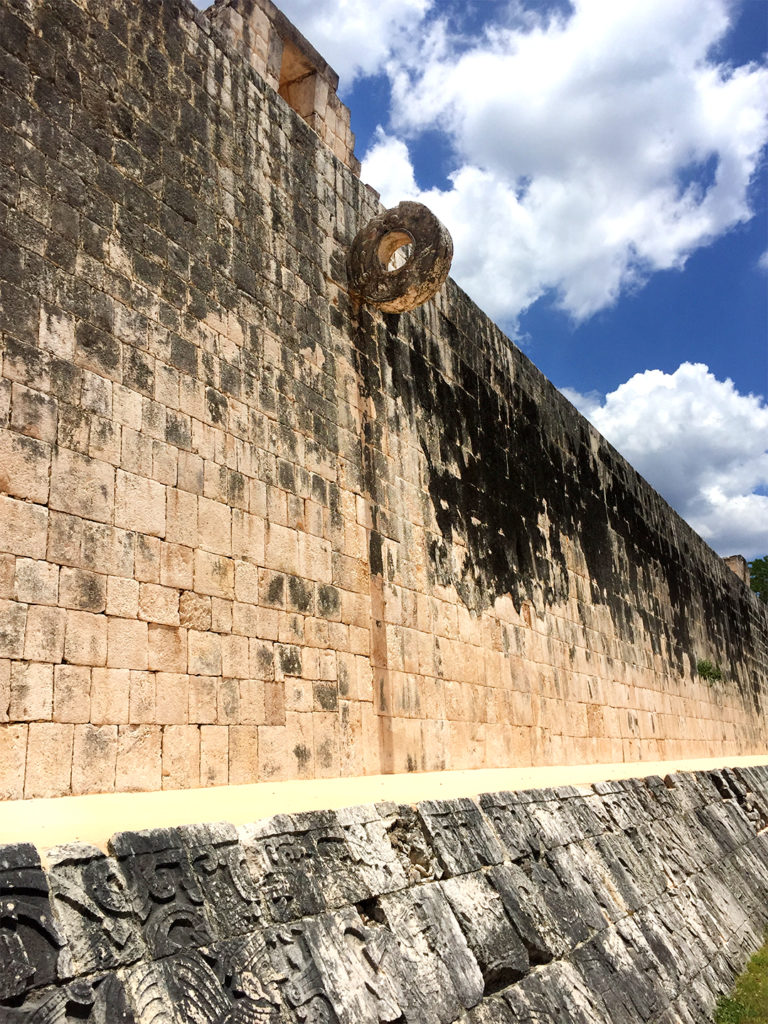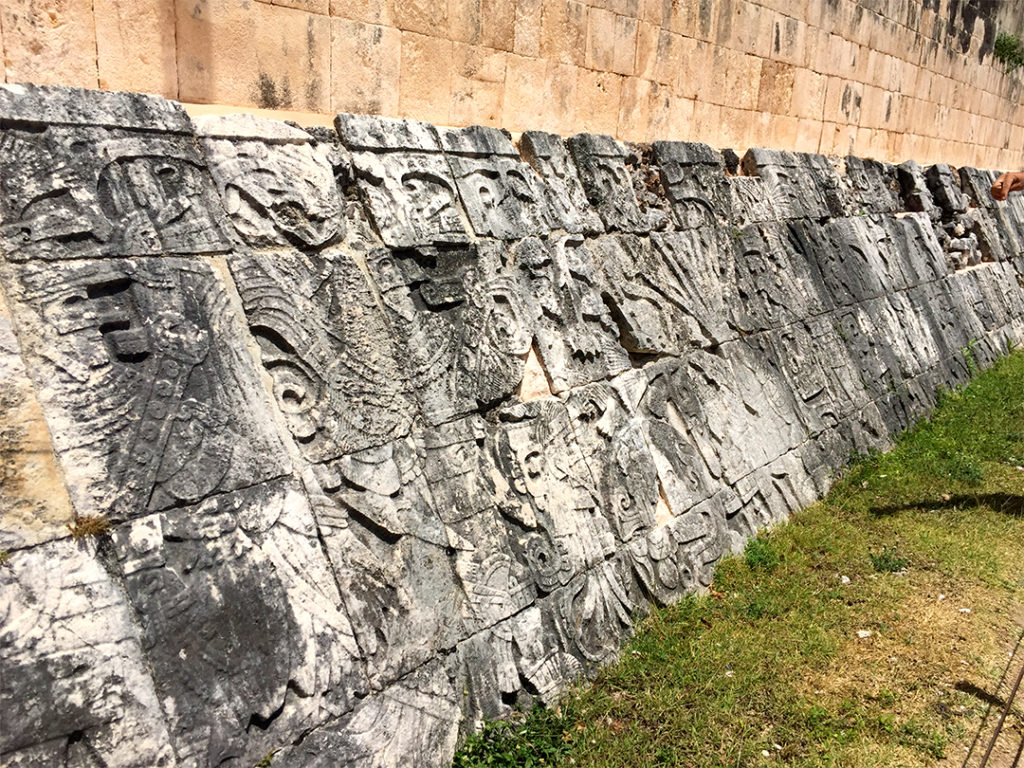 With 15 square kilometers, Chichén Itzá is the largest ruin area discovered on Yucatán. However, visitors can "only" explore about 20 percent of the ancient city. In addition, these sensitive, historic buildings may no longer be climbed. The steps of the pyramids are badly worn and the risk of injury has increased. The next generation would certainly like to enjoy the sight of these fascinating monuments.
This trip was absolutely worth the money ($ 150 per person)! I was really enchanted and I want to go back to Yucatán so bad. My inner Indiana Jones was awakened. I could have stayed in this unique place for hours. The very thought of how the Mayans lived here over a thousand years ago inspires me.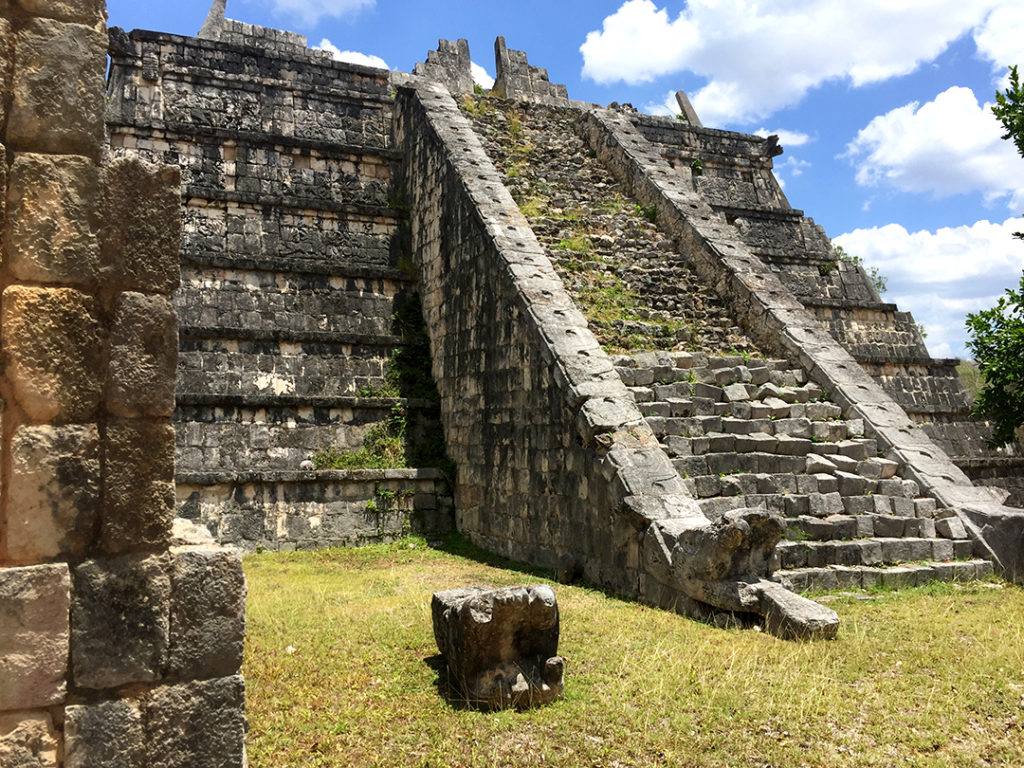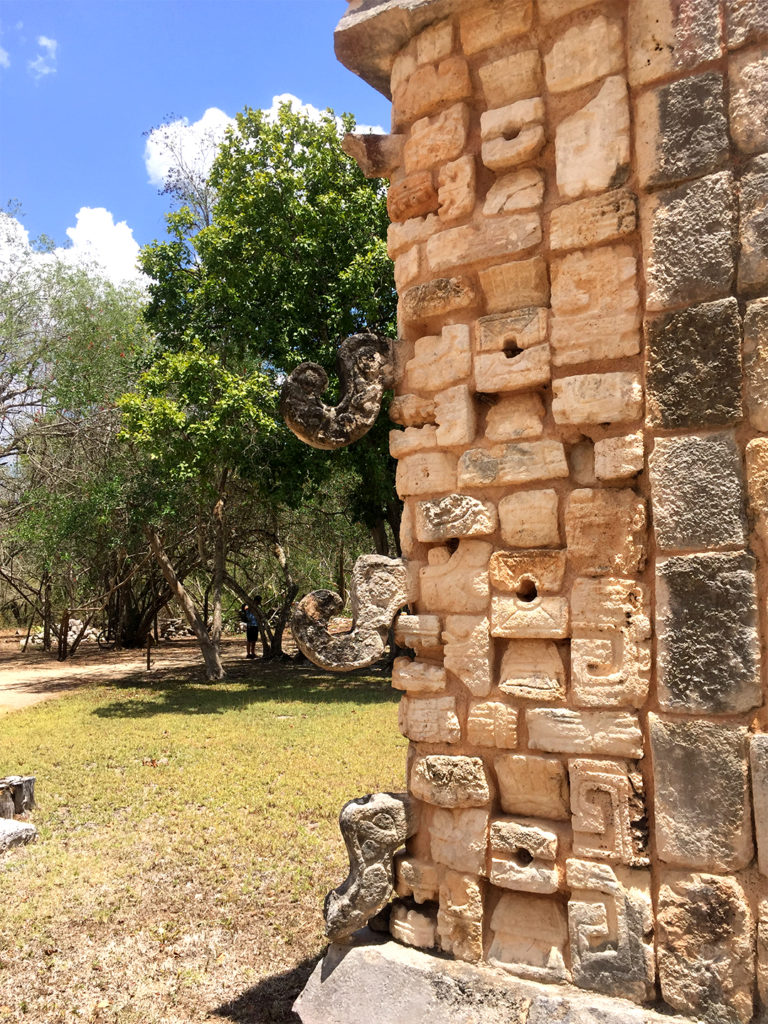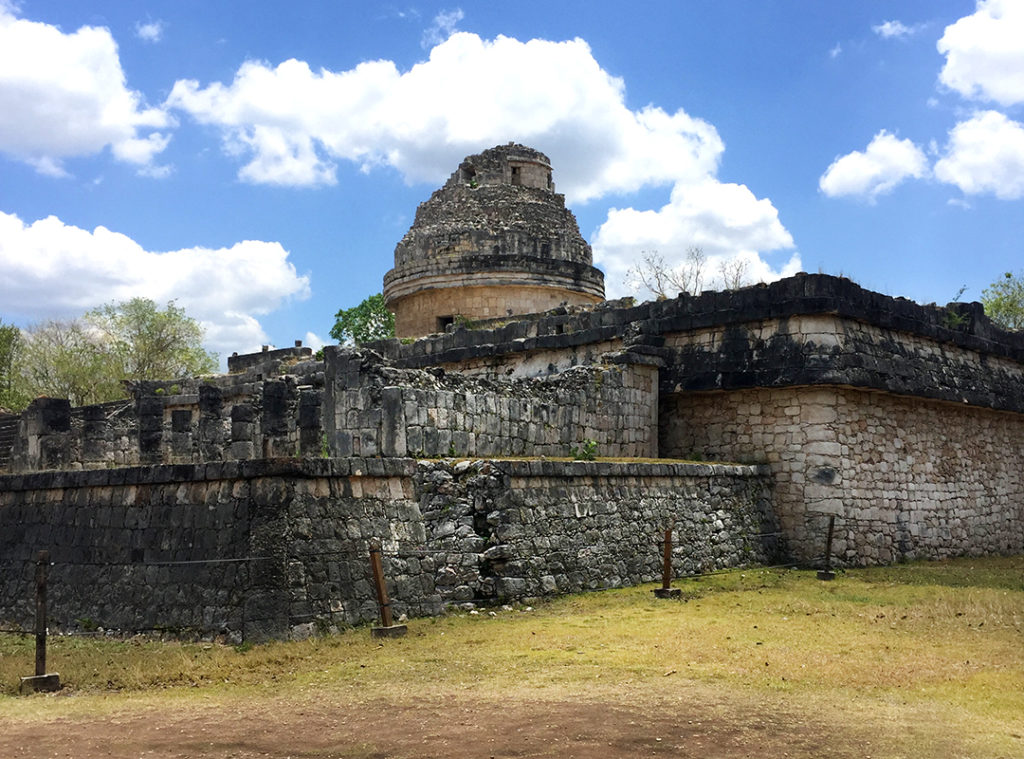 The only thing I didn't enjoy at all were countless salesmen trying to sell their goods. First, everyone sells the same exact items. Secondly, it bothers me a bit when you're constantly being told that everything costs one dollar. Yeah… right. I do like gifts and souvenirs are great, but please in moderation so that I can stroll through the historic site in peace.

TIP 5:
If you'd like to do shore excursions far away from the harbor, you should definitely book the tours with your cruise ship. Thus you can be sure to be back on board in time, as the tour providers are always in contact with the ship's crew.


Once again our evening consisted of entertainment and delicious food. You can get used to this lifestyle quite easily.

George Town, Cayman Islands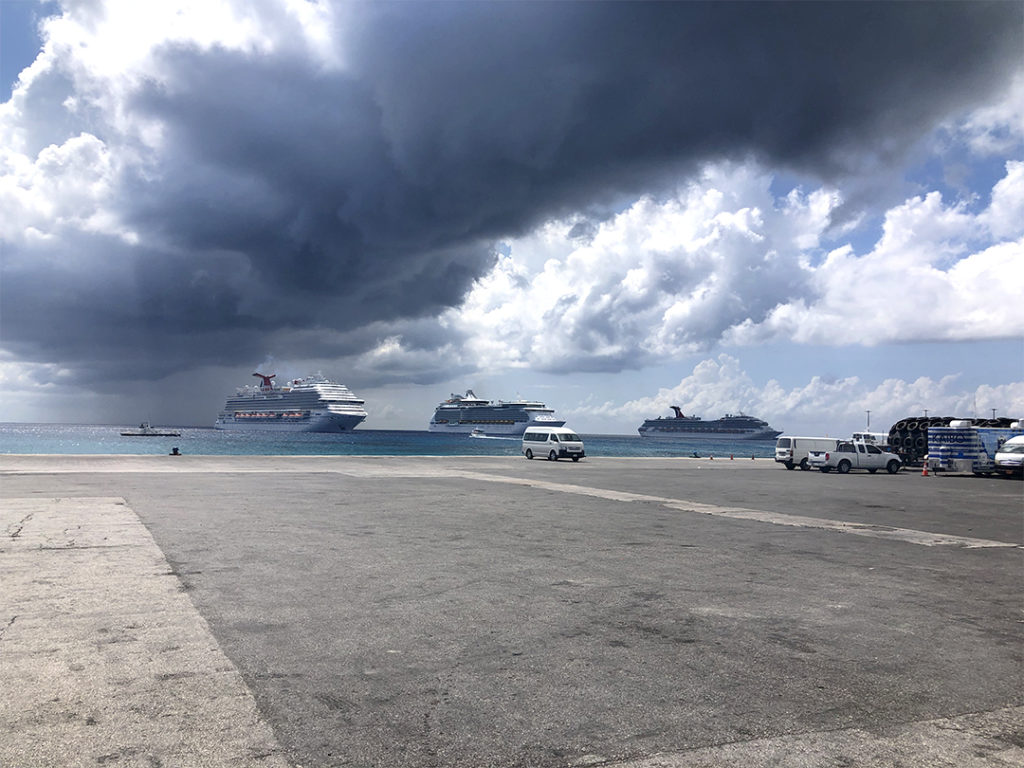 On day six of our cruise three other ocean giants arrived off shore in Grand Cayman, the largest of the Cayman Islands. A tourist invasion is imminent. Small tender boats brought us directly to George Town. Fortunately, it wasn't as rough as on Cozumel. On land we quickly found our group for the excursion. However, we had to wait for quite some time until our tour guide showed up and brought us to our shuttle bus. I think its due to the "Island time", everything is super easy going here.
ENCOUNTER WITH STINGRAYS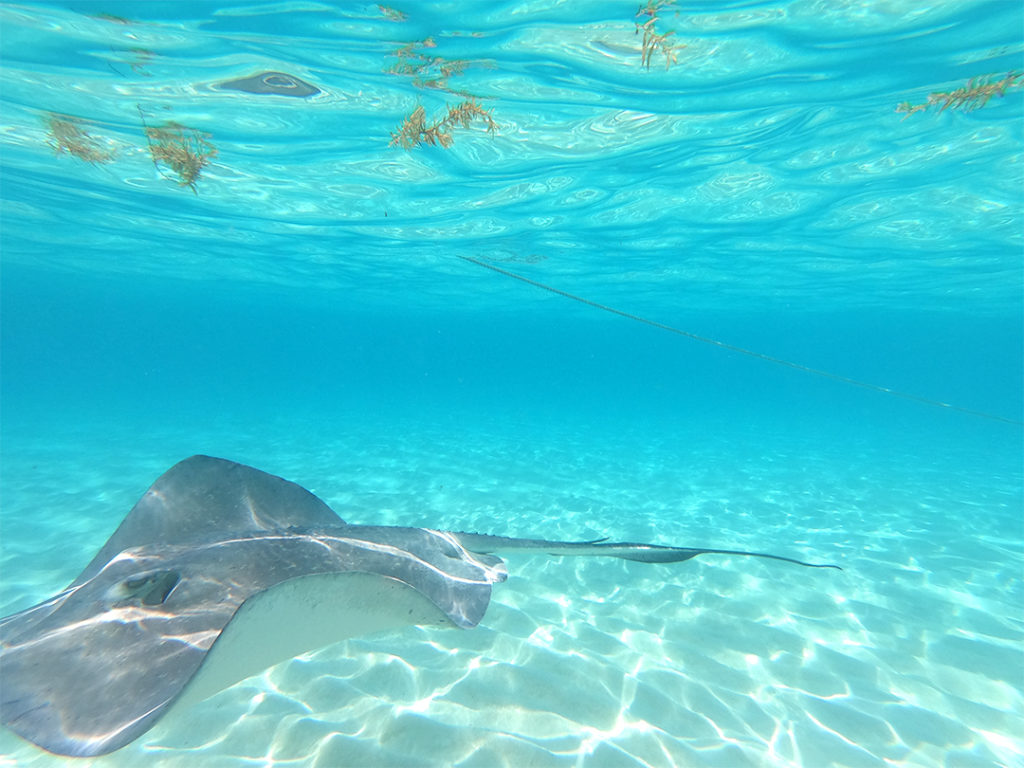 After a short drive, we arrived at our second transportation vehicle. A small boat was ready to take us, and approximately 12 other guests, to a large sandbar. There we were able to get in touch with these friendly ocean creatures. They always look so majestic when they fly past you … um, I mean swim.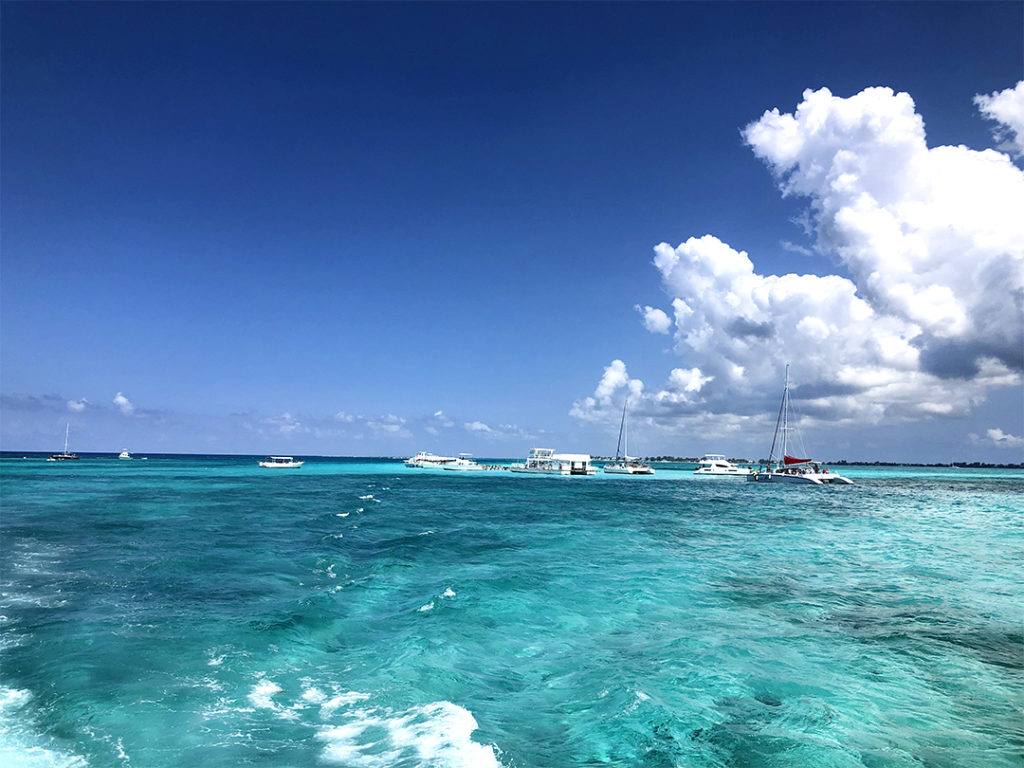 We were surrounded by some stingrays, when we got into the water, which was only one meter deep. These stingrays are used to the crowds, since they are fed by them. It should be noted that we were not the only boat on the spot. But ours was the least crowded. On the other boats, the passengers seemed to pile up. I guess we were lucky once again.

You can watch a video to get an impression of the situation here.
Our two guides told us some information about the stingrays and showed us how to touch them without hurting us or annoying the rays. I was kind of taken aback when they did not necessarily follow their own rules and dived after the stingrays in order to catch them. Because this excursion also includes feeding, taking pictures and kissing these elegant sea creatures. I didn't feel comfortable to feed these stingrays and to pose with them, so I skipped that part. It just does not feel right to me to show off animals like that.

So here I stood, in this turquoise water and simply enjoyed the presence of the stingrays. This experience alone is more than enough for me. Surprisingly enough, I was able ignore the high amount of other tourists in the water quite well. After about 40 minutes, the magic was already over and we were brought back to land.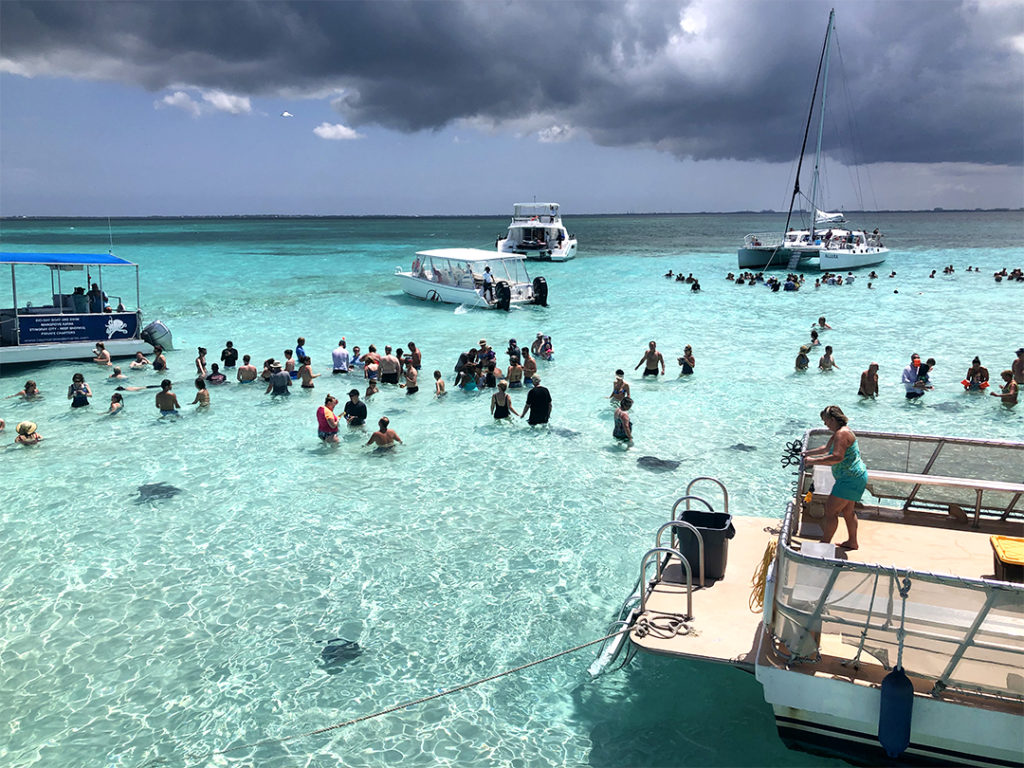 BACK IN George Town
When we arrived in the capital George Town we strolled around haphazardly for a bit and ended up in a friendly open air restaurant. After a refreshing drink and a small snack, we felt freshly strengthened and continued to explore George Town even further. Thus we discovered the, for the island famous, rum cake. After some tasting we bought a well mixed box full of tiny rum cakes with different flavors. The rum cake is a very soft, juicy cake which is enriched with – only 0.5 percent – alcohol. This specialty is the most popular gift and is made on Grand Cayman Island, Jamaica and Barbados only.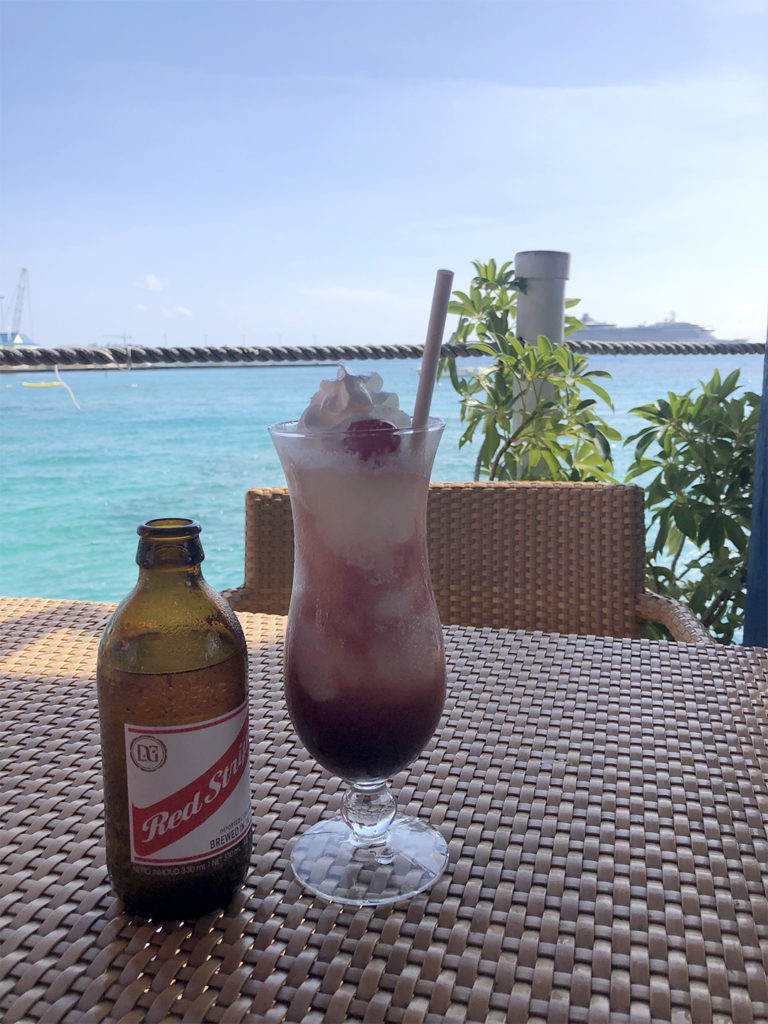 Grand Cayman is also known for the "Seven Mile Beach". The Caribbean Travel and Life Magazine has even awarded the beach as The Caribbean's Best Beach.
On our last day on land the Navigator was the last cruise ship to leave Grand Cayman Island. We went back on board with the penultimate tender boat and had to prepare ourselves mentally that this luxury trip will be over very soon. In the evening we enjoyed a magician show on board.
TIP 6:
Always check the departure times of the your cruise ship. These can vary. Some guests have already seen their ship leaving the harbor without them.
OUR LAST DAY AT SEA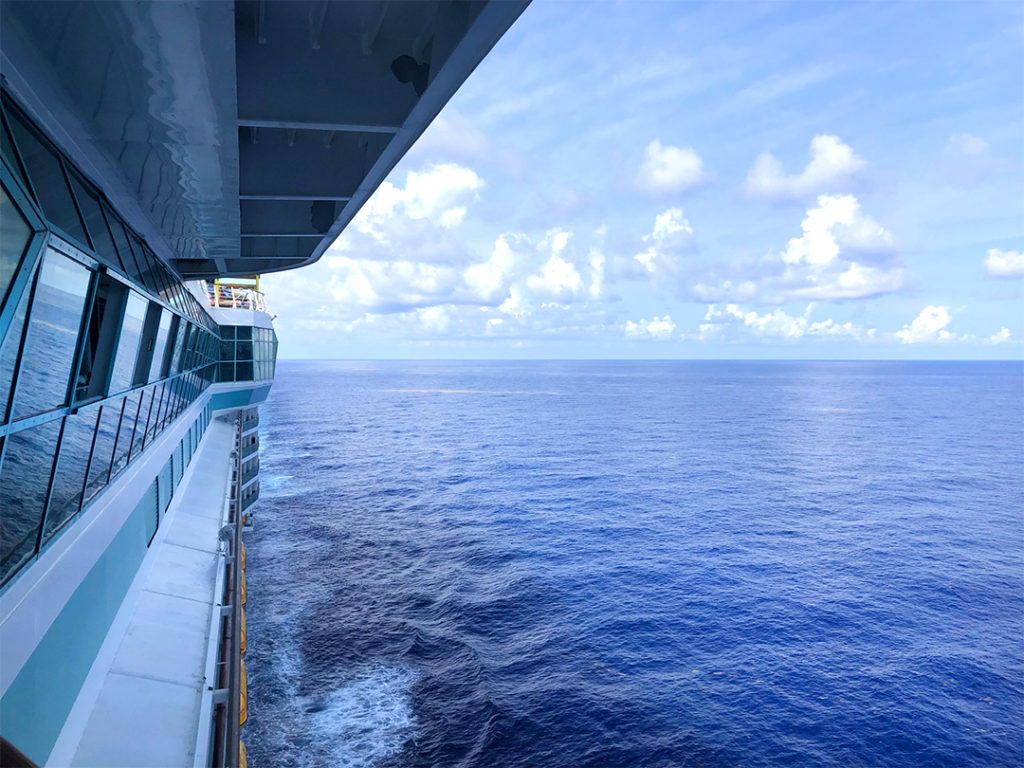 GUIDED TOURS ON BOARD
On our last day at sea we took part in a guided galley tour in the morning. We even got a little discount from our waiter the evening before. It cost $25 per person. There are several other guided tours on board, but the galley tour also included a brunch and endless Mimosas.

I think it's exciting to catch a glimpse of what is going on behind the scenes. The tour led through the various stations of the spacious kitchen and I was getting aware of what a sophisticated system hides behind the great service. Here, everybody works hand in hand in the most effective way. That is the only way to handle these huge number of guests. At the time of the tour there was already a lot of work to do, but in the evening every staff member is giving 200 percent. The leftovers are being collected and pressed together. When the ship is at least 20 miles offshore, these blocks are thrown off the vessel. Said blocks are being crushed by the ship's propeller, like a blender and serve as fish food ultimately. However, critics are not satisfied with this method, because the sea is getting overfertilized and as a result, many algae form.

At the subsequent brunch, we had wonderful conversations with other guests (thanks to the Mimosas). I noticed during the whole week how positive and open minded the passengers were. It's a colorful mix of young and old from all over the world. You get into conversation quickly and have a wonderful time in this luxury bubble. And despite the fact that there was so much alcohol on board (the package costs 65 USD / day), I have not even witnessed one unpleasant situation. That does not mean it does not happen, but the general mood was simply great. I really can not complain.

HOW DOES THE EVERYDAY LIFE ON BOARD LOOK LIKE?
As you can certainly get out of my article, there is absolutely no room, let alone time, for boredom on a cruise ship of this size. There is always something to do or see for everyone.

SEMINARS AND EVENTS
Art Auction
Bars
Casino
We walked through the casino once and were already annoyed by the cigarette smoke ?
Cooking and baking seminars
Entertainment
Comedy Show, Musical, Magician Show, Figure Skating, Karaoke, Live Music
Library
Open-air cinema
Restaurants
Shopping
Souvenirs, jewelry, rum cake!
Sports
Yoga, indoor cycling, total body workout, climbing wall, basketball court, table tennis and much more.
Tours on Board
Galley, engine room, bridge
Trivias
To all sorts of movies and music genres
Water activities
Waterslides, wave pools, swimming pools, jacuzzis, scuba diving course (PADI)
Wellness
Acupuncture, facial treatments, massages and much more.
Wine tastings
There is a program booklet for every day on board, which will be provided by room service every evening. Thus you are able to plan your next day on board. I think that is extremely convenient. In addition to the booklet there is also a private ship TV program in which you can get all the information about the cruise.

Our daily routine on board consisted of watching the ship docking, in case we were awake early enough. Afterwards we fortified ourselves with a rich breakfast at one of the buffets. Every single day I was overwhelmed by the seemingly never-ending food selection. Following we went ashore to spend as much time as possible at these beautiful destinations of this cruise.

Every day at 4.30 pm we had to be back on the Navigator. We often spent our afternoons at the pool deck. Here we ate incredible amounts of soft ice and treated ourselves with one or two unnecessary snacks. That's what is going to happen when everything is inclusive. Luckily we did not book the alcohol package. One really takes advantage of the food offers. Thats why we all gained at least two kg. Of course I could have gone to the gym. I even had sports wear with me. And now I have to start laughing again … oh how naive I was.

As I said earlier, there is so much to do on a cruise ship like this. After we decided we had enough of splashing and snacking, we got ready in order to watch one of the entertainment shows. I'm still very much impressed by the quality of those shows. After our daily dose of entertainment it was time to eat… again. We got along very well with our two waiters and the nice Irish people, with whom we shared the table. I still wonder how we could manage to eat a the three courses menu every night. After our dinner we would usually go and see yet another show or visit one of many the bars for a drink or two. Here we often made plans for the next day.

my personal cruise-must-do-list
Try the water slides at least once
Relax in a Jacuzzi with a cocktail in your hand, preferably in the evening
Participate in a tour on board
Chat with the board staff
Play a game of miniature golf
Watch as many entertainment programs as possible
Looking down at the bow of the ship
Watch the arrival and departure of the ship at least once
Join the welcome party on board
Eat as much soft ice as you possibly can
Watch the sunrise or sunset on the high seas
Waving to the ship when it leaves the port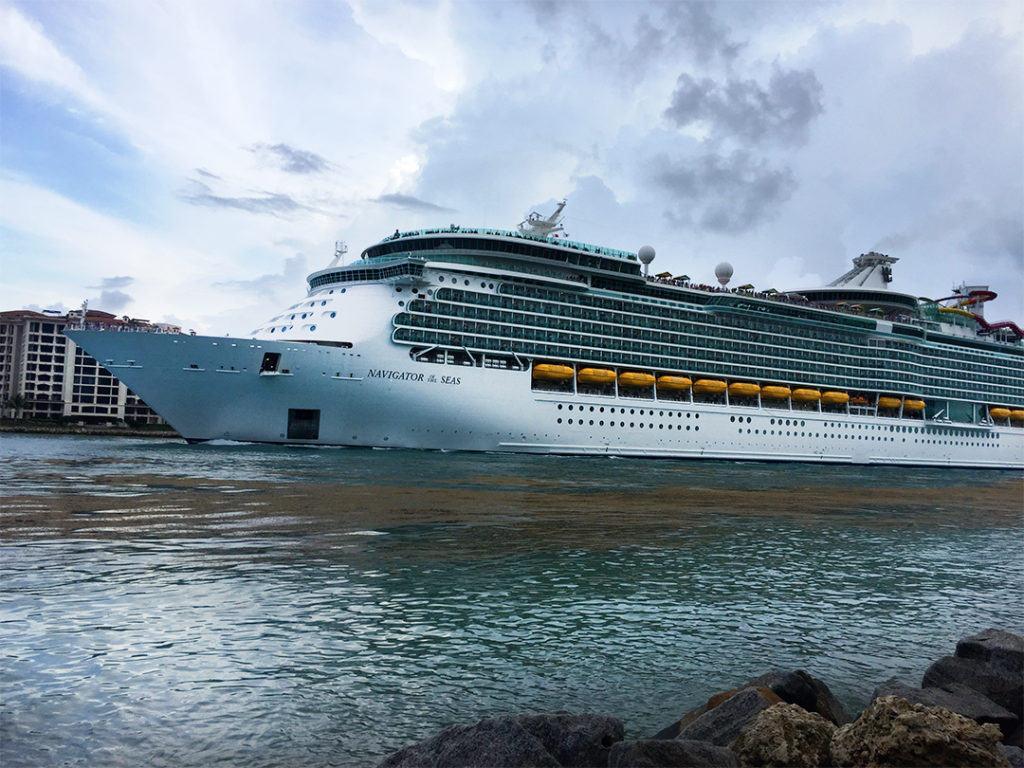 winners and losers of cruise tourism
As I have already indicated in my introduction, I would also like to take a somewhat critical look regarding the topic of cruises in this article. Because I personally had a wonderful time in which I saw, experienced and learned a lot. There is no doubt about that. The question is, how far is this type of tourism profitable for locals and how much does nature suffer from it? So who is the winner and who is the loser?

the winner
First of all, it should be said that cruise ship destinations are mainly tourism-based and therefore dependent on tourists and day visitors. The local shops, restaurants and bars benefit from the numerous visitors.
Of course, the cruise companies also benefit from the huge amount of paying tourists. A large ship also employs more than 1,000 people for several months. For example, our waiters work eight months straight. On the other hand, they have very limited free time and most workers come from low-income countries. The pressure under the service staff is also extremely high.

the loser
Nature and its ecosystems are clearly the big losers of cruise tourism. There is no way around it. It should be noted that cruise ships – according to the German Travel Association – account for only about 0.6 percent of civil shipping. But they are also the figurehead of shipping and thus serve as a role model. Therefore cargo ships represent the vast majority on the oceans.

POLLUTANTS MISSION
SULFUR OXIDE
The biggest problem regarding industrial and commercial shipping is the fuel. These big iron giants are still driving with heavy fuel oil. As a result, sulfur oxide emissions are incredibly high. After all, the sulfur content in marine fuel in European and North American coastal waters and in protected zones has been limited to 0.1 percent since 2015. But, that is still 100 times more than in automobile traffic. The changeover to produce less toxic emissions is there but it's slow.

CARBON DIOXIDE
Interestingly enough, shipping has "only" a share of about three percent of the worldwide emissions of the greenhouse gas CO₂. It should also be noted that, per passenger or transported weight, no means of transport generates less CO₂ than a ship.

NITROGEN OXIDES AND PARTICULATE MATTER
These two components are especially problematic for us humans. Nitrogen oxides attack the respiratory tract and particulate matter plays a crucial role in cardiovascular diseases. Therefore, ships in and at ports are a special burden for the people living and working there who breathe these harmful fumes.

WHICH MEASURES ARE TAKEN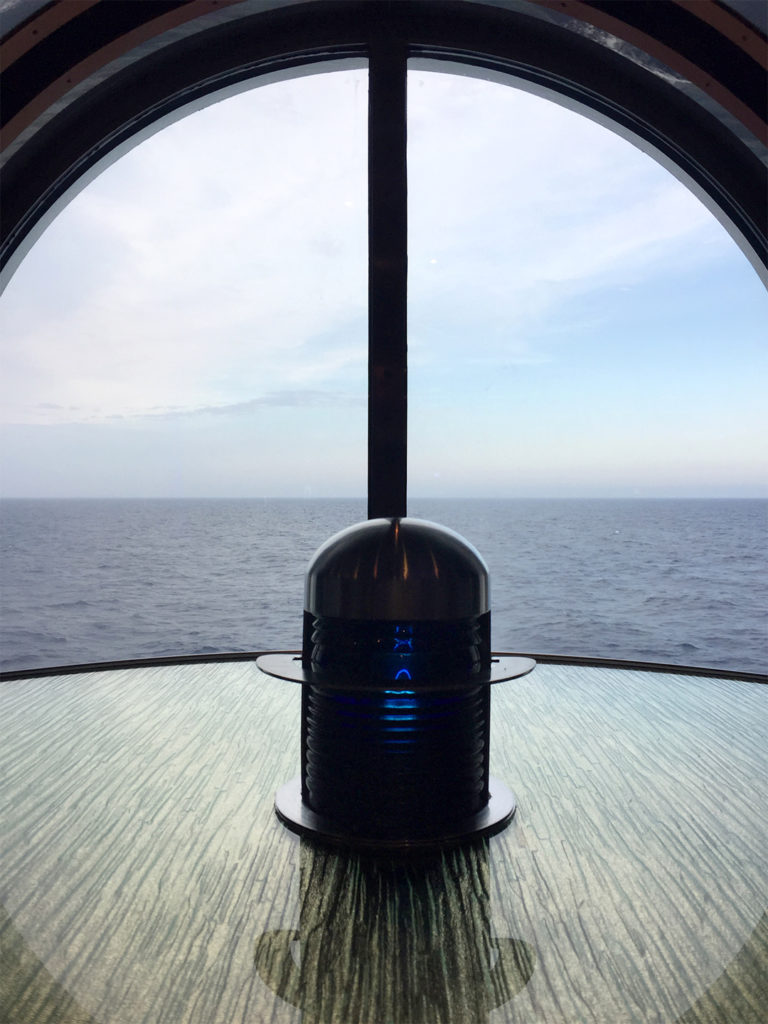 Over the last few years, the cruise industry and politicians have listened to critics and actually taken action to reduce emissions. Today, many ships are equipped with catalytic converters and exhaust filters to reduce emissions of pollutants.

ADVANCED-EMISSION-PURIFICATION-SYSTEM (AEP)
The sophisticated emission control system, which is also known as scrubber, can reduce the emission of sulfur oxides by up to 99 percent. Soot and coarser particles are filtered out by up to 60 percent. If you want to learn more about this system, here is a link (german only): https://www.cruisetricks.de/wie-funktioniert-ein-scrubber-auf–kreuzfahrtschiff/

FUEL
LIQUEFIED PETROLEUM GAS (LPG)
The big advantage of LPG is that it does not produce sulfur dioxide, soot particles or particulate matter and reduces the emission of nitrogen oxides by up to 80 percent. However, LPG is obtained by fracking, which seriously pollutes the environment in another way. In addition, LPG is not widely available, so LPG-powered vessels can only offer a limited selection of routes.

ENVIRONMENTAL OFFICER

Many cruisers now rely on so-called environmental officers. They ensure that all laws, directives and company environmental protection requirements are adhered to. Such as the proper separation of garbage, the careful handling of chemicals and the purification of water and air. In addition, the corresponding training of the crew and educational work for the passengers is part of the duties of an environmental officer.

NEW SHIPS
The newly commissioned cruise ships rely on streamlined construction in order to consume less fuel on route. In the future, a few ships will even sail through the seas and rivers with hybrid engines.

MY PERSONAL CONCLUSION
On a personal note I think the cruise we did was a lot of fun. It was my very first "luxury" vacation, so to speak. All in all a great experience when it comes to service, entertainment and so on. Nevertheless, I would not want to do a cruise so fast again, because the environmental impact is quite high and a cruise is not cheap either. But I will say, that the money you are paying is fair for what you get. The price nature hat to pay… not so much.

I recommend anyone who wants to book a cruise, to do some research beforehand about the provider and what measures are being taken in order to protect the environment at least a bit. Please don't do business with providers who don't take their responsibilities seriously. It also helps to make a small difference in our behaviors. For example, estimate how much food you can really eat. Do not waste water in general, separate garbage and turn off the light when you leave the cabin.
I AM CURRENTLY TRANSLATING THIS BLOGPOST. STAY TUNED GUYS.