Who has never heard of the city of superlatives, the city that never sleeps, the Big Apple? I associate nothing more with the US, than the city wich is famous for its huge skyscrapers. Today I want to let you know what my personal New York highlights are. Probably you already know them all. But maybe my article provides one or two new information for you. Enjoy reading.
NEW YORK, SECOND TAKE
In June 2017, I visited this gigantic city for the very first time and was simply blown away. Love at first sight, so to speak. I just could not get out of amazement and stared at those mighty skyscrapers with huge eyes and a dropped jaw. Much to the displeasure of the hectic New Yorker I think. Sorry not sorry.
I can not really explain my enthusiasm for New York. I surprised myself on this point. But this city is triggering something in me. I just feel so good. You know what I'm talking about, right?
At the end of October this year, it unexpectedly took me to New York City again, for a few days. So, I had the opportunity to take a closer look at this city. Just writing those lines makes me want to jump into a plane right now, in order to get to New York. Although … now it's getting colder there, too. Here in Miami it is nice and warm. Maybe I go back during spring … or summer ?
WHAT YOU SHOULD HAVE SEEN IN NEW YORK – MY 20 HIGHLIGHTS
I am sure, we can quickly agree, that one lifetime is still not enough to discover everything in New York. That is why my personal highlights are just a microscopic excerpt. Let me know in the comments what your favorite areas are and what you would recommend.
1. CENTRAL PARK
Probably the most famous park in the world is an absolute must see in New York. Opened in the 1850s, Central Park is the oldest city park in the entire US. At just under 3.5 square kilometers, however, it is "only" the fifth largest park in New York. This green oasis in the heart of Manhattan is actually worth a very own article. It probably takes weeks to see every beautiful detail in Central Park. The activities for visitors alone seem to be limitless.
Central Park Zoo
Cafes and restaurants
Boating
Fountains, sculptures and monuments
Central Park carousel
Pool
Rink
Horse-drawn carriages
But I would strongly advise against that. Although I love romance and horses, there are always reports of horses collapsing from exhaustion. For a lot of providers (certainly not all) money is more important, than the wellbeing of the hard working animals. So who loves horses, prefers to get on the bicycle. ?
When I first visited Central Park, I always had the feeling that everything looks so familiar This circumstance is not that surprising, since Central Park is the most filmed park in America. Keep your eyes open and you might even spot a movie set, that's what happened to me this year.
Tip: If you need a break from walking or cycling, then sit down by THE fountain. I am talking about the "Bethesda Fountain". I am sure you know it from a couple of movies. Under the "Bethesda Terrace" right in front of the fountain, there are often extremely talented street musicians, who sweeten your break. Incidentally, the statue on the fountain "Angel of the Waters" was designed by Emma Stebbins. That was the first time that a woman in New York got a public art commission.
The cheapest way to explore Central Park by bicycle is using Citi Bikes. These are available around the park in the Citi Bike stations. First, you have to download the City Bike App and pay $12.99 once. After that, you can use the Citi Bikes for 30 minutes for free. You should check where the Bike stations are located. Thus you can take advantage of the limited time window. ?
Pro Tip: Please have a look at the park rules online, especially regarding dogs and cycling, otherwise you might get a ticket.
2. STATUE OF LIBERTY (UNESCO WORLD HERITAGE)
"Lady Liberty" is located on Liberty Island in New York Harbor and symbolizes freedom like no other statue in the world. The huge gift (with shoe size US 879) of the French people to the USA was inaugurated in 1886. It has always welcomed visitors/immigrants from all over the world. Last year I drove past the green Lady on board of the Staten Island ferry and in October this year, I was finally able to see her up close. As I walked around the Statue of Liberty, I tried to imagine how people, who had come to the US in the hope of a better life must have felt. That gave me goose bumps. In fact, my great-grandfather was in New York City for a while. He went on a ship and cooked for the crew. But when he arrived in New York, it probably was not quite as he had imagined, so he came back home. Good decision, otherwise I would not sit here and write these lines.
The nearly $20 for this trip into the past have been well worth it. Liberty Island and Ellis Island (including museum admission and audioguide) are included in the ticketprice. Thumbs up for that.
Tips:
Be sure to reserve tickets online. Otherwise you will stand in line for hours, especially when the weather is nice.
If you want to visit the crown of the Statue of Liberty, you should buy tickets several months in advance. This is extremely popular and limited.
Take pictures of the ferry schedule, so you do not have to wait so long at the stop. Time management is key. ?
3. ELLIS ISLAND
I get the impression that Ellis Island is a bit overshadowed by its famous island sister, Liberty Island. Even though Ellis Island was much more busy in the past two centuries. Between 1892 and 1954, about twelve million immigrants were registered on Ellis Island. The little island in New York Harbor has been open to the public since 1990 as Museum of Immigration. It is definitely worth a visit. You can marvel at the large "check-in hall" and look at the premises in which the newcomers were medically examined. I could get a real good picture of how it used to be there.
You can also use computers for your own genealogy research, which is pretty cool. Unfortunately, we did not have enough time to check it out in detail. So be sure to plan enough time for your mentally time travel into the past. The subject of immigration is still up-to-date, and so is the museum on the small island, which also educates its visitors about the current immigration.
4. TIMES SQUARE
Probably the most turbulent and best-lighted street in the United States. Life is raging here for 24 hours 7 days a week. One ad after the next tries to convince you of something or anyone. Sensory overload! But in moderation, I like to be a part of this hustle and bustle.
Since the early 20th century, billboards illuminate Times Square. Over time, these have increased enormously, as have the visitors. Every day, an average of 300,000 visitors flock to this famous street. In addition there are about 115,000 drivers/co-drivers. One pays roughly between $1.1 to $4 million per year for one of these extremely popular billboards. Bargain, right? Supposedly, the owners of "1 Time Square" make $23 million each year, with their billboards.
5. UPPER EAST SIDE AND UPPER WEST SIDE
If you want to see the "cozy New York" á la "Sex and the City", I advise you to have a look at Upper East Side and Upper West Side. These two quarters are separated from each other by Central Park, or connected to each other, depending on how you look at it. Here, you will find the typical New York Town houses. About 450,000 people live in the neighborhoods next to Central Park. You can get a small studio apartment for just under $ 2,000 per month. But that's really more like shoebox romance.
Walking through the streets or strolling along the Hudson River or East River, gives me the most authentic New York vibes. When the weather is nice you can easily walk a few kilometers without really noticing it.
6. SOHO
Probably the most Instagramable quarter of New York. Just by aimlessly walking through these historic streets of SoHo, I have noticed at least three professionell photo shootings. After all, world famous celebrities live here. Alicia Keys, Daniel Craig and Rachel Weisz, Jon Bon Jovi, Samuel L. Jackson and Justin Timberlake and Jessica Biel have an apartment or live in this popular area. But I think they kind of blend in, in the turmoil of the city, just like everyone else.
SoHo has been a National Historic Landmark since the late 1970s. Deserving as I think. I like the architecture and the fire ladders on the houses extremely well.
By the way, SoHo stands for "South of Houston Street" and does not only houses celebrities, but also many fine boutiques and galleries. That was not always the case. Due to poor housing conditions, there were only a few residents in SoHo, let alone investors. Only when artists of all kinds settled in SoHo in the 1970s and breathed life into this neighborhood, new residents and investors came. Today you have to pay at least $2,500 per month for a small studio apartment. An amazing development.
Tip: In the cozy French Café "Balthazar" you can get delicious pastries. Sip a coffee, or in my case hot chocolate, while watching the general hustle and bustle on the small bench in front of the Café.
7. 曼哈顿华埠 – CHINATOWN
Chinatown is located in Lower Manhattan and is home to about 100,000 Chinese immigrants and their descendants. But there are also Chinese quarters in Brooklyn and Queens, which I should check out next time. With a total of about 570,000 American Chinese in New York, the Big Apple has the largest Chinese community outside of China.
Chinese were welcome workers in railway construction in the 19th century. But as immigration increased, stricter laws were imposed between 1882 and 1924. For example, the workers were not allowed to take their wives with them anymore, which is why mostly bachelors lived in Chinatown during that time. Since they isolated themselves from the rest of the city, the strong Chinese influence can still be seen and tasted to this day.
The majority of restaurants and shops are located along Canal Street. Here you are spoiled for choice, because everything is still very authentic and cheap compared to the rest of the city. Reason is the fact, that the business owners are not oriented to the tourists, but to the people of Chinatown. But whoever wants to get a fake Rolex or Gucci bag, will certainly find something in this quarter.
I was more interested in food and discovered an ingenious dim sum restaurant. The "Nom Wha Tea Parlor" is a bit hectic and there is only one toilet, but the food is damn good. My highlight were the soup dumplings and the traditional Oolong tea. We went to eat there twice. And to make things easier, the menu is already on the table. You only have to tick what you want to eat. This is how you avoid misunderstandings. Supposedly only half of the residents in Chinatown speak English, but I had absolutely no communication problems at all. I think everyone who has a business also speaks English.
Tip: Always have some cash on you. Not all restaurants and shops accept credit cards, or if they do, only certain ones.
8. MANHATTAN
The heart of New York is in fact an island. It is flanked by the Hudson River to the west, the East River to the east, and the Harlem River to the north. A total of 22 bridges and 21 tunnels connect the busy district with the mainland. No less than 34 famous sights can be discovered on this skyscraper island. Most of them are in my personal ranking. The name Manhattan comes from the Algonquin Indian language and means something like "hilly country".
Over 1.6 million people from all over the world live on the island. Manhattan is not quite as heterogeneous as the other four districts Brooklyn, Bronx, Queens and Staten Island.
Non-Hispanic whites make up the largest population in Manhattan at around 48%. Most Europeans came from the United Kingdom, Ireland, Germany, Italy and Russia.
Approximately 25% of New Yorkers living in Manhattan are Hispanics.
About 14% of African Americans live in Manhattan
With about 11%, Asians are the smallest population in Manhattan, but they are the fastest growing group.
I, personally like Manhattan a lot. In my opinion it is the most diverse and exciting district in New York. I have to admit at this point, that I have not set foot in the Bronx or Queens yet. But I have read about it and what I've read confirms my impression, that Manhattan has more to offer. The whole world compressed on an island, so to speak. Certain areas can be highly turbulent, such as Times Square or Wall Street for example. But there are also places where you can relax, like Central Park or one of the other parks in the city. There are cozy areas in which you do not even notice that New York is so huge and home to over eight million people. Conclusion: I would like to spend much more time in this city.
9. GRAND CENTRAL TERMINAL
The almost 106-year-old Terminal is the railway station with the most train tracks worldwide. 67 tracks in total are distributed on two levels. I would be hopelessly overwhelmed, if I had to find my train there. The most interesting train track is probably track number 61. It never appears on timetables or scoreboards. Allegedly, there is a private platform under the Waldorf-Astoria Hotel which leads to said track. Famous people such as Roosevelt are said to have used this secret access to leave the Hotel unnoticed. Rumor has it, that even today there is still a wagon waiting deep under the hotel. Just in case, probably.
Stories like this totally enthrall me. But the wonderful details of the terminal are also unique, like the magnificent ceiling painting.
10. BROOKLYN BRIDGE
One of the country's oldest suspension bridges connects Brooklyn with Manhattan. The in 1883 finished bridge was interestingly planned by German engineer John August Roebling (actually: Johann August Röbling) from Thuringia. That is an exciting information for me, because I have close relatives in Thuringia.
I think you have the best view to Brooklyn Bridge, as well as the skyline of Manhattan from Pebble Beach.
Of course, a walk on Brooklyn Bridge is a must do. You can comfortably walk the 1.8 kilometers across the historic bridge. But keep in mind that the bridge is crowded, just like most of New York famous attractions. Especially if the weather is nice. If you want to take pictures without people in it, you will need some photo editing skills. Or you visit the bridge at sunrise. Although some people will be there as well, but not nearly as many as during the day.
Fun Fact: At the time when Brooklyn Bridge was finished and opened, people doubted the safety of the bridge. To clear these doubts, so that the bridge is actually used, P. T. Barnum (yes, the guy from "The Greatest Showman") came up with a very special idea. He let his 21 circus elephants cross the Brooklyn Bridge in a big show. After this event, New Yorkers were convinced. If only people from that time could see that the bridge is still intact today and carries millions of visitors each year.
11. WILLIAMSBURG IN BROOKLYN
There is probably no other district in the world where strictly Orthodox Jews live right next to a thriving hipster neighborhood. Everything seems to be possible in New York. When walking through the Orthodox Williamsburg, you feel more like an outsider or time traveler. The devout Jews have built their own little world here, consisting of just a few blocks. Half of the residents are considered poor and another 20% are considered needy. Instead of English, people living in Williamsburg speak Yiddish only. English is more or less a foreign language. Even though school curriculum dictate English classes, kids just learn the very basic knowledge (according to a book of an insider). Today's Jewish residents in Williamsburg came from Eastern Europe, mainly from Hungary and Romania. They immigrated during and after World War II and locked themselves, in the already Jewish quarter, consistently from the outside world.
However, if you turn around the next corner, you are in the hip and trendy part of Williamsburg, which is growing steadily. Here you can admire street art and discover movie sets. Unique shops and restaurants characterize the street scenery. It reminds me a bit of Berlin … well, the Berlin from my childhood and youth. The reason for the shift in Williamsburg are the horrendous rental prices in Manhattan. Many artists, students and families moved to the less turbulent Williamsburg and changed the atmosphere.
The transition from ultra-orthodox to hipster is still pretty tough, but compared to last year, I find it a bit more blurry. Let's see how Williamsburg develops in the future.
Tip for German speaking people: You should always be careful what you say, but especially here, as many Jewish residents understand the German language well. Works the other way around, as well. If you can speak German you will understand Yiddish.
12. FLATIRON BUILDING
If anyone ever asked me what my favorite building is, I confidently say, "The Flatiron Building in New York City." I can not explain why, but this 1902 finished building simply fascinates me. I remember seeing this narrow building in "Neverending Story II: The Next Chapter" from 1990, for the very first time. I kind of love it ever since.
Because of its unusual floor plan, which has the form of an iron, the unique building is called "Flatiron". Thus, the construction area was optimally utilized.
13. EMPIRE STATE BUILDING
Another popular attraction of the city of New York. The Art Deco building from the early 1930s characterizes Manhattan's street scenery like no other. Until the 1970s, it was even the tallest skyscraper in the world with its 381 meters (443 meters to the very top). There are two public viewing platforms in the building. The main viewing platform is located on the 86th floor, which also has an outdoor area. On the top floor, the 102nd to be exact, is the other lookout point. This is however quite small and there is no outdoor area.
In 2012, the Empire State Building was equipped with a computer-controlled LED light system that can display 16 million colors. For various occasions, the cult building is now illuminated accordingly.
Personally, I have not been on top of the Empire State Building yet, as I prefer to look at it. And from up there it's not possible. Top Of The Rocks, for example, has a wonderful view to the Empire State Building.
Tip: If you want to save on ticket prices for an observation deck, just visit one of Manhattan's many roof top bars. I was in Spyglass and had a perfect view of the city's brightly lit landmark. It is especially atmospheric during sunset until the night. In addition, you can sip on your Empire Cocktail while enjoying the view.
14. SAINT PATRIC'S CATHEDRAL
Although I am not a religious person, I think that places of worship are beautiful. Saint Patrick's Cathedral is one of the most impressive churches (next to the Frauenkirche in Dresden) that I have ever seen.
In 1858, the cornerstone for the construction was laid. In 1879, the cathedral was finally finished. The American Civil War intervened and forced the workers to stop building. Saint Patrik's Cathedral is the largest and oldest Neo-Gothic cathedral in the United States.
Last year, I went inside with my friend, just out of curiosity. We were surprised by a graduation ceremony, which took place inside of the church. My best guess is, that it was a Catholic all-boys' school graduation, but I am not quite sure. However, when we sat down and listened to the speaker who delivered his impressive graduation speech, I almost cried. He spoke about the modern world and its not insignificant influence on humanity and openness. At the age of 17 or 18 he stood in front of the altar and spoke like an old, wise man. That gives me hope for the future. Of course, the scene has fueled my emotional reaction as well. But look for yourself.
15. ONE WORLD TRADE CENTER – OBSERVATORY
This glass giant is the tallest building in the entire country, symbolizing one of the cruelest days in United States history, but also a new start.
After eight years of construction, the One World Trade Center, which until 2009 was called Freedom Tower, opened in October 2014. The world's sixth tallest building, including its peak, towers 541 meters into the sky. It is obvious to have a look at Manhattan from the highest point of the city: the One World Observatory. The Observatory is located on the 100th, 101st and 102nd floors and offers a 360 degree panoramic view over Manhattan. A visit is worthwhile in my opinion. Even the ride on the elevator is vividly designed. The modern LED screens within the spacious lifts, depict the emergence of Manhattan in time-lapse. Once you arrive on the top, you are led into a screening room where you can watch a "movie collage", as I would describe it. After that the curtain opens and you will be rewarded with a stunning view.
Luckily we went to the observatory at sunset, the colors were simply magical and you can see a sea of ​​lights illuminating the city, as soon as it is getting dark. However, this time is particularly popular and accordingly, the observatory is crowded. This is why you will have to fight the other visitors just a little bit in order to get some nice shots. But it is possible, do not worry.
In addition to a bar and restaurant, there is also a virtual window on which you can stand and look down 406 meters. However, this animation is not really well done, in my opinion. The elevator ride was more exciting and realistic. Otherwise, the observatory is very spacious, which I liked. But at $3.8 billion construction costs I kind of expect that ?
Tip: If you drink a glass of wine up there, the effect is more intense … take it easy.
16. NATIONAL SEPTEMBER 11 MEMORIAL – GROUND ZERO
At these two square wells, one becomes very aware of how profound the attacks of September 11th 2001, were for the US and the rest of the world. The memorial remembers the 2,977 victims of 9/11, as well as the 6 deaths from the bombing on February 26th in 1993 (the memorial for this event was also destroyed on 9/11).
The two memorial fountains were installed in the footsteps of the former twin towers. The water of the basins falls nine meters into the depth. This makes the memorial one of the largest man-made waterfalls in North America. Every single name of the victims were engraved around the fountains, which are read out for the anniversary. Especially in the evening, when the wells are lit and there are not that many visitors at Ground Zero, the memorial can unfold its true aura.
Did you know? There was actually one survivor. The "Survivor Tree". This tree is a Callery pear tree. It was extremely badly damaged after the attacks. However, the New York City Department of Parks and Recreation was able to rebuild the tree and re-planted it in 2010 on the grounds of the memorial. What a wonderful symbol, right?
17. WESTFIELD WORLD TRADE CENTER
I have already been in this futuristic shopping center twice and never bought anything. Why do I recommend it anyway? Quite simply… the crazy building itself is worth seeing. From the outside, as well as from the inside. While you walk through this "whale," as I like to call it, you feel transported at least 20 years into the future. Everything is clinically pure and from well hidden speakers you hear announcements that you should watch out at the escalators, etc.
Another special feature is that the center is located underground and also has its own subway station. Which is very convenient, because you can directly go into the mall and browse the 125 shops of the mall within a few steps.
The sophisticated shopping center was opened only two years ago and replaces the previous shopping mall which was destroyed in the 9/11 attacks.
18. HIGH LINE PARK
This is probably the most innovative park I have ever visited. On abandoned railway tracks, the city has created a green, 2.3 kilometer long oasis. From the higher level you will be experiencing Manhattan from another perspective. On the High Line, you can walk right past the most diverse buildings and watch street art on house walls at eye level. Here you have great opportunities to take unique pictures.
The planting of the High Line is inspired by the wild plants that have overgrown the railroad tracks 25 years after the deadlock. During the walk, you can discover perennials, grasses, shrubs and trees that have been selected for their resilience and constantly changing structures and colors in all four seasons.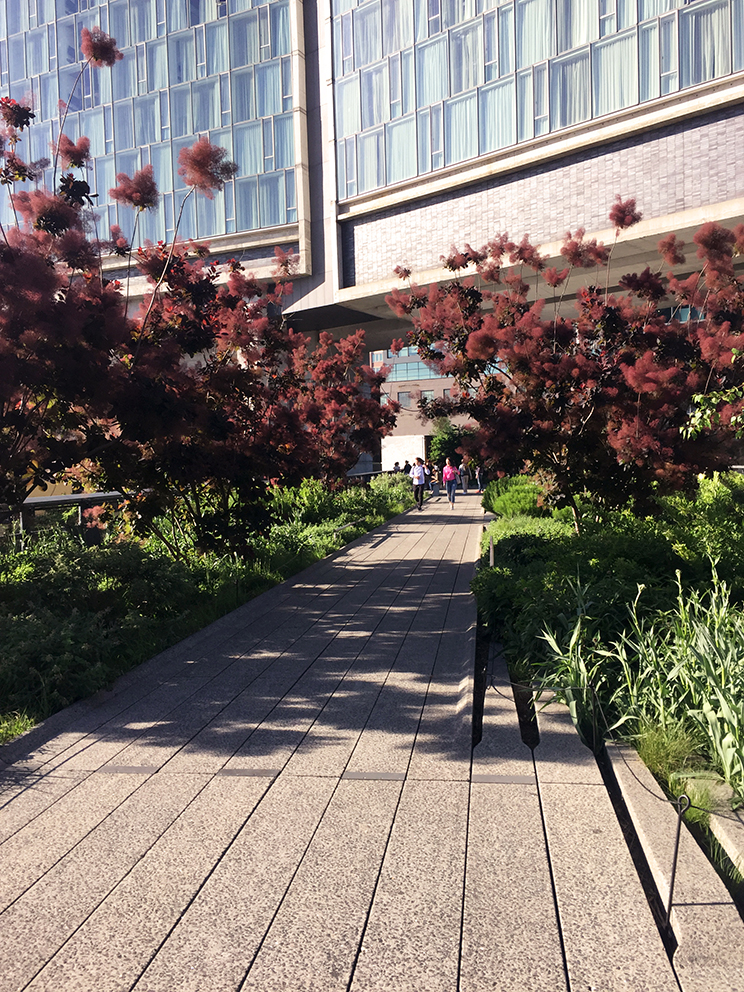 The High Line Park was awarded with the international EGHN Prize (European Garden Award) in 2010. It also serves as a role model for similar projects in Europe, such as the Parkschneise at the former station Munich Olympiastadion.
Tip: There are a total of twelve entrances to High Line Park. You should inform yourself online which ones are barrier-free, beforehand. And you should always check the event calendar, there is always something going on, on High Line.
19. BROADWAY
It is almost a shame not to watch one of the Broadway musicals or plays. Last year, I watched THE 1980s classic "Cats" musical. It is extremely astounding to watch the musical performers on stage! I was deeply impressed. Even though I did not really know what to expect from Cats, my idea of it was a bit different. Nevertheless, I had a real good time and enjoyed the show.
Manhattan's theater district is located between 41st and 53rd Street and between Sixth and Ninth Avenue. It houses 41 major theaters, with a "large" theater seating (at least 500 seats). Performances in smaller halls are referred to as Off-Broadway or even Off-Off Broadway. In the 1910s and 1930s, theaters were founded all over the place. The Lyceum has opened in 1903 and is the oldest theater on Broadway, which runs without any interruptions. It is also the first theater to have electric light in the entire building, installed by none other than Thomas Edison. I love history.
Every musical and theater fan will be more than happy here. Sometimes you even get lucky and can get hold of remaining tickets for a lower price. But be careful what seats you are offered. For those who do not know what to do with all this, I advise you to just get involved and let yourself be lulled into the glittering world of musicals and plays.
20. MUSEUM OF MODERN ART (MOMA)
Anyone who is interested in art will feel at home in MoMA. You can easily spend the whole day in this art museum. Here you will find various drawings, paintings, sculptures, photographs, prints, illustrations, films and electronic media. If that's not enough for you, you can go and browse the 300,000 books of the MoMA library.
With more than 2.5 million visitors each year, the Museum of Modern Art is one of the most visited art museums in the world. You also notice that a bit to be fair. I waited for about 20 minutes at the entrance before I could get in, but this was well organized. In general I have to say, New Yorkers and apparently New York visitors are very well and patient when it comes to queuing. The museum offers six floors full of art. Especially the upper two floors thrilled me the most. It is something extremely special to admire a real Pollock, Monet or van Gogh. For $25 it is definitely worth a visit.
Tip: I grabbed an audioguide for a change and did not regret it. Sometimes you find yourself in front of a piece of artwork and ask yourself: "Um, what does the artist want to express?". The audioguide usually answers all the questions that pop up in your head.
MY RECOMMENDATIONS FOR REAL GOOD FOOD
Black Tap
You should definitely try one of their crazy shakes. Later in the day, there might be a queue.
Prince Street Pizza
We waited about 30 minutes in the morning, but it was worth it.
Raclette
A must for all cheese fans out there. Here the melted cheese is placed directly from the cheese loaf on your dish.
Junior's
Best Cheescake in town, I do not argue about that either.
Wolfgang's Steakhouse
If you want to dine fine, go to Walfgang's. The portions are gigantic! Prices too. You should book in advance.
Clinton Hall
They have a fondue burger! That is all I have to say.
In terms of food, there are millions of options in New York. One crazier than the other. We actually planned our New York Trip according to food rather than attractions. But it was fully worth it. It is another strategy, that is for sure.
Before you go to New York you should think about what you want to see and do. On the one hand because this city has so much to offer, that it can be overwhelming. On the other hand, because you can not go everywhere spontaneously. Some attractions or restaurants have to be booked days, weeks or even months in advance.
So, have fun planning!
THESE ARE MY PLANS FOR THE NEXT VISIT
Sip four o'clock tea in Plaza Hotel

Visit National History Museum

Check out more film locations

Watch a play on Broadway

Driving on my own through New York traffic

Guided tour through the Grand Central Terminal